---
---
PREFACE:  My first exposure to Adrian's music was when he accompanied Hawkwind on their 1978' U.S. tour. At the time I was 19 and very much looking forward to my first Hawkwind concert experience. I recall it like it was yesterday:  March 14th, 1978' at Rico's 1 in Collinsville, Illinois -a smoky rock circuit bar and concert venue. And there on stage were Dave Brock, Bob Calvert and a few musicians I was unfamiliar with -amongst them Adrian Shaw on bass ( -though I didn't know his name at the time ).
Little could I imagine years later I'd be interviewing this "unnamed" bassist on my website!  And as to that 78' concert?  Pure magic!  Dave at his lab-coated, mad scientist best and Bob in manic, witty, theatrical top form      ( -though I and most knew nothing of Bob's bi-polar disorder at the time ).  It was one of those "pinch-me-    is-this-real?" experiences.  And that "new guy" on bass?  Yeah, he was pretty good too.  So, with that bit of nostalgia out of the way -here's my interview with Adrian. 
---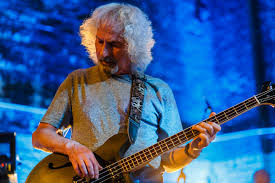 With a discography that reads like a "Who's Who" of British rock ( -including stints and album credits with such seminal acts as Arthur Brown, High Tide, Magic Muscle, The Bevis Frond and Hawkwind ), Adrian Shaw has to be one of the  UK's  most enduring, versatile and prolific stringmen.    Beyond that he's a genuinely nice guy. Check out his  fascinating interview below...  
---
Creative Tech Nerds ( CTN ):  The first time I saw you was when you toured the U.S. with Hawkwind back in 1978.  What are your memories of that U.S. tour and the "Quark, Strangeness and Charm" and "PXR-5" studio sessions you did with Hawkwind? 
Adrian Shaw:  That was the first time I toured or for that matter visited the U.S.  I had a ball in that tour although it had problems.  First of all we lost Simon House to David Bowie's band after four dates. We knew he'd be leaving and had his replacement, Paul Hayles with us. Paul's a fine musician but replacing Simon was always going to be difficult.  He played violin and keyboards whereas Paul only played keyboards and the violin was an important part of our sound. 
On top of that our singer, Bob Calvert, was bi-polar and was very up and down at that time. Dave Brock was    so pissed-off at the end of the tour he sold his guitar to a fan with a view to quitting.  I, on the other hand,    had a great time.  The final show in San Francisco turned out to be the last date I played with Hawkwind.      The "Quark" sessions were interesting inasmuch as most of the album had already been recorded when I    was asked to join. I was given a tape of the songs and told all of the previous bass player Paul Rudolph's    parts would be wiped.  So, I met up with the band at Rockfield Studios in Wales and proceeded to over-      dub the bass parts I had worked out at home.  My take on the parts required was very different to Paul's      but seemed to work.  We also recorded a couple of tracks from scratch too. The PXR-5 album was   
recorded in a more traditional way. 
---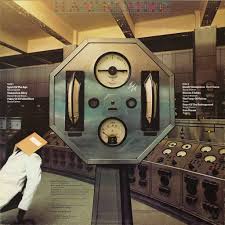 The back cover of Hawkwind's "Quark, Strangeness and Charm" album. Adrian was brought in at the end of the sessions to replace the prev-iously recorded bass tracks.  His take on the parts were different to Paul's but they helped make the album what it was to become. With classic cuts like "Spirit of the Age", "Quark, Strangeness and Charm" and "Damnation Alley" Adrian's tight, well-rehearsed bass lines helped make this album among fan's favorites.  Lord knows, I played that album almost until it's grooves were worn smooth.  Aaaah vinyl...
---
CTN:  Anyone who's seen your extensive discography would have to say you've been a very "in demand" bassist over the years.  And I'm guessing that being a "quick study"  ( i.e:  having the ability to quickly learn the songs of each band you've worked with -adapting to whatever musical style or situation you're thrown into ) has greatly contributed to your success over the years.  Would you agree? 
Adrian Shaw:  Joining a band is always a bit of a challenge and each one is unique.  Learning songs quickly      is pretty much essential.  Luckily, having been in bands for so long, styles don't present too much difficulty.    I've been in bands that veer towards Psychedelia, Space Rock, Country Rock, Jazz Rock, Folk and so on.  Consequently, I've found having a grounding in those styles have given me a flying start when I need to 
learn a new set list.
Mostly though, it's down to putting the work in.  I've been playing in The Bevis Frond for ( 30 ) odd years now and all the songs are written by Nick Saloman.  So when it's time to record a new album I and the other band members get demos of the new songs and learn them before we convene in the studio.  As well, we are all conscientious types.  We normally get a song down in one or two takes.  It's not unusual to record ( 10 ) or more songs in one day. 
---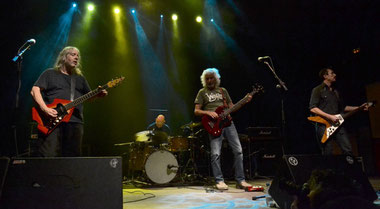 Adrian ( center ) performing with The Bevis Frond.  Having been a member for over thirty years now, Adrian and the band have gotten learning new songs and recording down to a fine art ( -often recording ten or more songs  in a single day ). Pretty astounding product- ivity when compared to most bands!  
---
CTN:  I'd imagine that auditioning for bands and gigs is something of a "double-edged sword".  The relief of getting the gig is quickly followed-up with the sheer terror of realizing that you now have to learn ( -and become proficient at playing ) dozens of new songs!
Adrian Shaw:  I can't say I've ever experienced "sheer terror" from joining a band but relief at getting the gig is something I can recognise.  Having said that I haven't had to audition too much.  Most times I just get asked to join. *NOTE:  That's the difference between professionals like Adrian and the rest of us.  The prospect of quick-ly learning dozens of new tunes would most definitely  put me in a state of "sheer terror" or outright panic!  Leave this stuff to the professionals kiddies... 
---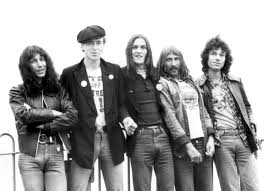 Adrian ( -left in photo ) accompanied by Hawkwind vocalist, lyric- ist and poet extraordinaire Bob Calvert ( RIP ), drummer Simon King, founding guitarist and synth noodler Dave Brock and key- man / synthesist/ violinist Simon House.  This photo appears to be circa mid-to-late 1970's. 
---
CTN:  As a kid in school were you any good at mathematics?  It may seem like an odd question to ask but not when you consider music is based upon pitch/ frequency and numerical divisions of time ( i.e: eigth notes, quarter notes, musical scales, bars, measures, 4/4 time, 7/8 time, etc. ). 
Adrian Shaw:  My academic career was a little troubled. I was expelled from school when I was fifteen, so higher mathematics wasn't really an option.  Obviously, not being an idiot I'm reasonably numerate.  But thinking back I was always interested in odd time-signatures and used to write songs in 5/4 and 7/4 without actually thinking about it. 
After a while I started to think more about the mechanics of what I was writing and now consciously write in time-signatures other than the obvious 4/4 or 3/4.  Also of course, with the advent of digital recording one has to become familiar with tempo maps, quantising, snap values and so on -which all require a basic knowledge of Maths. 
CTN:  I think most musicians have an "inborn aptitude" for such things ( -which may subconsciously steer them in the direction of musical careers ).  However, feel free to contradict my theory if you think I'm wrong. 
Adrian Shaw:  I agree, but it's most definitely subconscious. 
---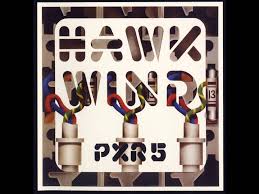 Hawkwind's "PXR-5" album.  Adrian also participated in the recording of this album.  Unlike the "Quark, Strangeness and Charm" sessions ( -where he was brought in late during the process ), Adrian describes the "PXR-5" sessions as being a        bit more traditional.
---
CTN:  I understand your son has followed in your footsteps and is also a musician.  Can you tell us a little  about him and what he's doing now?  I'd imagine you're quite proud of him.
Adrian Shaw:  My son is a very talented guitarist and keyboard player.  But being smarter than his father he's taken the sensible path of working in some high-end computer programming of some sort.  Consequently,    he makes a way better living than he probably would as a musician.  He has a studio at his house and he's constantly writing and recording.  Of course I'm a very proud father. 
CTN:  When you're not playing bass what outside interests or hobbies do you pursue in order to help "recharge your batteries" between stage and studio dates? 
Adrian Shaw:  My wife and I left London and moved to the country about ten years ago.  I have a studio here and when not touring I write and record a lot and put out the occasional solo album.  I like the freedom this gives me and the chance to play instruments other than bass.  So when not touring I live a quiet life, walking the dog and following my Soccer team, the mighty Tottenham Hotspur. 
---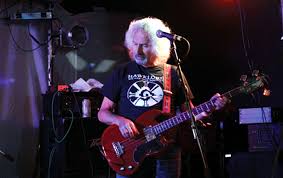 Living a quiet life in the country, Adrian relaxes by recording in his home studio, walking the dog and keeping abreast of his soccer team the Tottenham Hotspur. 
---
CTN:  And lastly, for those of us who may be contemplating taking up the bass as an instrument:  Have you discovered any "shortcuts" or exercises that have helped you become proficient on the bass in less time?      For example, I would think that plugging your bass into practice amp and switching your radio from one music station to another ( -and trying to quickly figure out the bass line of each song you encounter -regardless of what musical genre it is ), would be a terrific exercise to help "sharpen" one's ear and learn to "play by ear". 
Adrian Shaw:  Your example is spot-on. To keep my hand in I have an MP3 collection of my favorite tracks which range from Psychedelia, through Funk and Country, etc. So I put my player on "random" and play along. So one minute it will be "Superstition" the next "Killing in the Name". I would recommend that to any aspiring musicians whatever their instrument. It keeps you on your toes. 
                                                              -END  OF  INTERVIEW-
---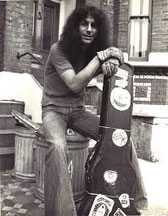 Pictured right:  An early to mid 1970's Adrian Shaw. 
So there you have it.  An interview with one of England's premier bassists.        And let me quickly add Adrian is also well versed on electric and acoustic guitar    ( -and probably several other instruments beyond that ).
As a bonus you have Adrian's practice "tip" ( above ) should you be inclined   
to take up an instrument and expand your versatility with it. 
---
I'd like to thank Adrian for taking the time to do this interview.  Apart from being a fascinating musician with      a legendary history of playing alongside Britain's best -he also happens to be a genuinely nice guy.  Quite a  combination!