---
---
Having stumled across Tom Englund and Evergrey while researching  Arjen Anthony Lucassen's interview          ( -Tom contributed vocals to Arjen's 010110001 album ), and after being blown away by the Youtube videos
I saw of Evergrey's "The Storm Within" album, I knew I had to interview Tom and spread the word on this incredible Swedish metal band.  Below is my interview with Evergrey's Tom Englund:  
---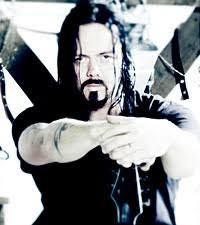 Frontman, lyricist/ singer and guitarist ( -sharing guitar duties with band member Henrik Danhage ), Tom Englund has carved out a unique niche    in today's metal scene.  Penning intelligent lyrics that explore the psyche,  hit like a bullet and resonate with the listener long after the earbuds ( or ) headphones come off, Evergrey 's earned the unique distinction of being both kick-ass and highly intelligent all in one package. Quite a feat for a metal band.  And Tom's thoughtful lyrics have connected with fans on        a visceral level few metal bands ever have.
---
Creative Tech Nerds ( CTN ):  What separates Evergrey's music from most rock is the emotional depth of your lyrics.  Whereas most bands are content with rehashing the typical "sex, drugs and rock n' roll" stuff over and over, Evergrey hits a deeper vein -connecting with listeners on a visceral level ( -by tackling subjects like strained relationships, self-doubt, addiction, suicide, etc. ). Things that are "universal" and that touch nearly everyone.   
Is that intentional or am I just reading too much into it?  
Tom Englund:  Intentional or not that is from where my inspiration comes from. Since day one we have written about the human psyche and real life events. Mainly because it is easier for me to sing about stuff with sincerity if I lived them myself. I have yet to slay a dragon.                                                                                           
                                                                                                                                                      CTN:  A lot of people see Evergrey's music as "dark" ( doom and gloom ) metal.  However, when I listen to songs like "Passing Through" I hear a really positive message. That song's lyrics come from the perspective of    a person who's made mistakes in their life but who's trying to learn from them and do better as time goes on. That seems like a pretty positive message to me.  And I think a lot of Evergrey fans can identify with that struggle in their own lives. 
---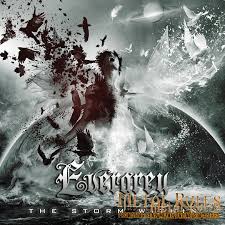 Released in 2016, "The Storm Within" is one of the best albums I've heard in the past year.  It provides a great "window" into what this band does best.  You'll find thick power-chords, dizzying leads and bone-crushing bass fueled by rock solid drumming.  And surprisingly    ( -at least for a metal band ) some very effective minimalist keyboard work that nicely ties everything together. My favorites: "In Orbit" and "Passing Through".  You'll also find slower more contemplative songs    ( -like "The Paradox of the Flame" featuring a vocal duo between Tom and Carina ). Overall, a banquet of satisfying sonics, intense emotions and relevant themes on one killer album!                                                "THE  STORM  WITHIN" album cover
---
Tom Englund:  Well, I'd say there are dark songs and that the most immediate feeling you get from the    overall themes of the music most likely strikes you as dark or somber. However, we always have hope concealed within it.  Sometimes in the words, sometimes in some passages of the music. For me the      contrast and also the knowing that there is a light, that you're not alone is important. 
CTN:  Having said that, do you ever get letters from fans saying your music has helped them get through the "rough patches" in their lives? ( i.e:  overcoming addiction, loss, suicide, etc. )? 
Tom Englund:  I get lots of letters/ e-mails today from people who tell me how our music and lyrics helped them through tough times in their lives. I am just happy that our music can comfort people in that way.
---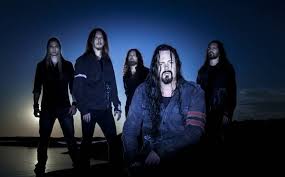 Band Photo:  Tom Englund in the foreground with band members Jonas Ekdahl ( drums ), Rikard Zander ( keys ), Johan Niemann ( bass ), Henrik Danhage ( Guitars )
---
CTN:  I watched an interview with Henrik and Jonas recently where Jonas ( -I think it was ) said that when Evergrey started out the band drew from a fairly limited number of musical influences, but that as time        has gone on the band has broadened the range of it's musical influences. Can you point to any cuts on              "The Storm Within" where such outside musical influences helped to shape the song? 
Tom Englund:  Not really, I think that the influences you've had throughout your career pretty much are        the same, and that it's rooted in you.  Sure, we get unconsciously influenced I am sure but not to the point where we can say that a specific band or thing influenced specific songs. 
CTN:  How does the band feel about touring and doing festivals? And do any recent festivals stand out as    being particularly enjoyable or memorable ( -and ones you'd like to do again in the future )? 
Tom Englund:  We love it.  It's in our DNA, we've done it for over half of our lives.  It's who we are and what  we do.  We just recently played "Hell Fest" in France in front of ( 65,000 ) people.  What's not to love about that?
CTN:  The sound-quality of "The Storm Within" is flat out magnificent!  Really fat, ballsy and musically "warm". I'm guessing you recorded in analog -am I right?  Do any of you have any strongly-held opinions in the "analog vs. digital" ( or ) "tubes vs. transistor" arguments? ( -regarding which sounds better ). 
Tom Englund:  We recorded through an analog desk yes but into a computer not a tape machine.  We are        ( -mostly me and Jonas ) sonic nerds BUT the most important thing for us is that it sounds epic, no matter    what the source is.  We owned a big ass studio with an SSL 4000G desk and yes I can argue that the desk    itself sounds amazing.  If it sounds better than anything else used today I don't know.  Jacob Hansen who  mixes our stuff,  mixes in the computer.  
---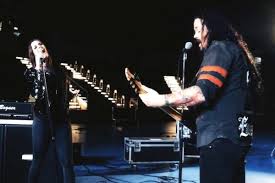 Tom and Floor Jansen during production of Patric Ullvaeus'    "In Orbit" music video.  Be sure to check out the link we've  provided to this video ( -from our "Music From the Cutting Edge" page ).  This video ROCKS!  Patric's use of Steadicam shots yank the viewer into the action in a way that very few    music videos ever have.  If you'd like to get some airplay for "Evergrey" on your local FM rock-station, refer your rock station's program director to THIS  VIDEO.  It WILL impress!                            FLOOR  and  TOM
---
CTN:  In the same vein, I'm wondering if any of you have discovered any clever sonic tricks ( i.e: "load boxes", drop-tunings, custom pick-ups, close miking of amps or just playing your instruments in certain ways ) that  help you to get those fat "monster tones" out of your instruments and amps or when recording in the studio?   
Tom Englund:  I mean we quite early, on the second record started using the drop D tuning which later    turned into a Drop C tuning.  Other than that we have been fortunate to have signature guitars from Caparison very early too which of course set a standard for us where nothing but the best, to our ears, was good enough. Other than that practice your vibrato kids, that's what separates you from being a decent guitar player to a  great sounding one. 
CTN:  Correct me if I'm wrong but I don't think you used an outside producer for "The Storm Within" ( -it was just you and Jonas producing ).  Do any of you have opinions as to whether bringing in an outside producer is  a necessary or good thing?  Or do you feel ( -as I do ) that outside producers often steer bands in a wrong direction? 
Tom Englund:  Producer wise me and Jonas are that experienced now that we feel comfortable doing it. However, the work task is somewhat overwhelming sometimes when you have to write, produce, sing, play guitar and of course be very involved with the mix.  I find that a right producer should lift the band to new levels, bring out the best of them, not steer them in new different-sounding ways.                                           
When we did "Monday Morning Apocalypse" we worked with Sanken Sandqvist as producer -but he came      in after  we wrote the songs -and got the best out of them and our playing.  That's a good example of how      to do it I feel. 
CTN:  How was it working with Floor Jansen and Carina?  Will we see them contributing on future albums?
---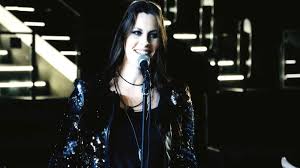 Floor Jansen adds her vocal talents                                  to "The Storm Within". "In Orbit"   
is a prime example.
---
Tom Englund:  Well Floor is a friend and also married to my best friend Hannes, my old drummer, now in Sabaton.  And Carina has been on every album since the beginning so I guess it was just a very natural thing  for us.  Familiar and nice to share your music with other musicians really. 
* Note:  Stupid me!  Had I done a bit more research before asking that question I would've known that    Carina has been on every album since the beginning.  Embarrassing. GRRRR!  -Tomm ( CTN )
CTN:  By now, your music videos with Patric Ullaeus and Revolver have become synonymous with Evergrey        ( -as has Patric's use of stark Icelandic landscapes as their backdrop ). Can you tell us a little about how the partnership between Evergrey and Patric came about and how you coordinate to bring your musical vision      to the screen in these music videos? 
Tom Englund:  Patric and I have worked extremely close since we did the "A Touch of Blessing" video and    after that the DVD: "A Night to Remember".  We are also friends today and of course we together developed  an artistic output that derives from Patric's talent and super-quality mind to get my ideas on film. Basically, that's how we work:  I tell him an idea, get him excited, and then we are fortunate to have the funds to travel  to Iceland and be there for a week.  Just a bliss really.  
---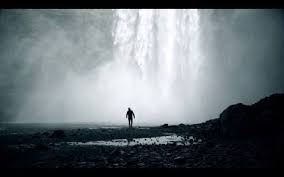 Film maker Patric Ullaeus' heavy use of stark Icelandic landscapes in Evergrey's music videos seem to be the      perfect visual metaphor for the band's music. Stark,      brutal, metamorphic -just like the volcanic, evolving      scenery of this unique north Atlantic island.
---
CTN:  I've added a new "Music From the Cutting Edge" page to our site in order to introduce readers to some worthwhile bands like Evergrey.  Unfortunately, Evergrey gets very little airplay on FM radio-stations in my    area.  I hope to include Evergrey on this "Music From the Cutting Edge" webpage once I get your interview transcribed.
Tom Englund:  Awesome! 
CTN:  I'm wondering what countries your albums sell best in ( -I'm guessing Sweden and most of Europe )? Also, do you get a good amount of radio airplay there in Sweden and Europe? 
Tom Englund:  Actually, USA does quite well be it that it is a huge country of that has something to do with it. 
Other than that we do alright pretty much everywhere, not huge at all by any measures, but we have impact enough to keep on doing this after ( 21 ) years or whatever it is. 
---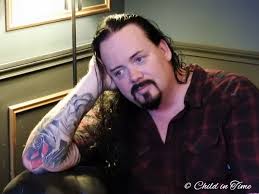 Tom relaxing.  After 21-years of success I guess he's entitled.      But he and the band will be getting back into the studio soon to start work on Evergrey's next album.  After pulling out all the stops for "The Storm Within" I'm curious to see how the band "tops" such an epic album.  A tall order for sure!
---
CTN:  Last question:  "The Storm Within" came out in 2016.  Have you started work on your next album? 
Tom Englund:  We will start in January, 2018 with a release in January, 2019! 
Thanks for the interview!                                                                                                                             
---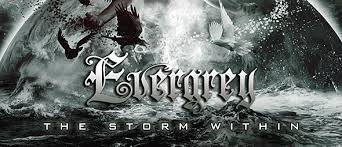 I  e-mailed a link to Evergrey's song: "Passing Through" to a friend of mine. He e-mailed back:  "Yeah, I like these guys a lot.  Very clear and good   vocals and heavy as a Mack truck. Very cool!"                           -Michael  W. Belcher.
                                                                          *NOTE:  Mike's an experienced bass player who's played in several local rock bands over the years. He knows his stuff.  And he doesn't toss out compliments willy-nilly.  It's one thing for a fan to be impressed but for a fellow musician  -that's saying something!   -Tomm ( CTN ). 
---
While we're at it -I thought I'd mention the rest of this great band.  Each one of these guys is a superb musician in their own right but combining forces as a cohesive unit they're pure dynamite!  Just check out the video links on my  "Music From  the Cutting Edge"  page to see for yourself. 
---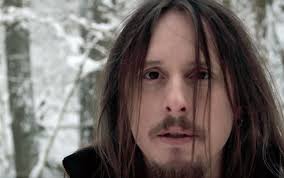 Rikard Zander ( Keyboardist ). When you think of heavy-metal you don't usually think of keys. None-the-less, Rikard's key-board riffs are integral to Evergrey's "sound". For example:    I can't imagine songs like "In Orbit" and "Passing Through" without his spare yet infectious riffs snaking through them.  Or his sparse, moody piano intros on "The  Impossible"      or "Distance". For Rikard a "little goes a long way".
---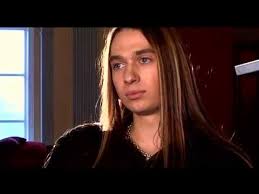 Jonas Ekdahl ( Drums ). Sure he can do "speed drumming".      Just check-out "My Allied Ocean". But Jonas' most important contribution is his "straight-ahead drumming". Giving the band what  it needs when  it needs it ( -without tons of distracting flourishes that impede the song's forward momentum ). Again,      I refer to "In Orbit". Check out how Jonas hangs back for a few measures ( -allowing Rikard, Henrik and Jonah to establish the riff before bringing in his drums full force ). Epic! Seamless power, speed and grace. Spot-on drumming. That's Jonas' bag.
---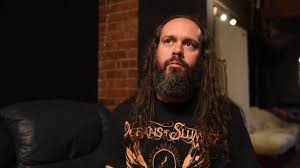 Johan Niemann ( Bass ). Need a building flattened? Call Johan. There's something about the way he attacks those strings. You FEEL as well as hear his bass lines. He can pulverize concrete and loosen dental work. So if you have a filling or two pop-out listening to Evergrey don't blame me. I warned you!  Johan and Henrik have a "telepathic connection" ( -like Dave Brock and Lemmy had back in   the heyday of Hawkwind ). They "feed" off one another's energy.  Watch for it in the "In Orbit" video.  
---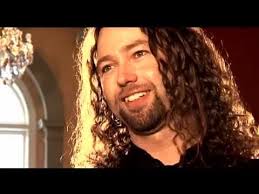 Henrik Danhage ( Guitars ). Evergrey's "Shredmeister". He brings the FIRE!  Whether it's the over-the-top shredding and wail of  "My Allied Ocean" or the tasty, glowing riffs of "Passing Through", Henrk's pyrotechnics give the band it's incandescent orange glow . Hearing Henrik and Johan forge their high decibel fury is a thing  of true beauty.  Henrik knows his way around a fretboard. He's    one of metal's true guitar virtuosos! 
---