---
---
( 3 CD ) Limited Expanded Edition. Atomhenge ( ATOMCD 3016 ). Compilation 2009 Cherry Red Records.      24-bit remastering from original analogue masters. CD compilation research coordinated by Mark Powell. Includes ( 18 ) page colour booklet with credits, period band photos, memorabilia, song lyrics, discography,     ( 3 ) color Hawkwind picture postcards and extensive liner notes by veteran Hawkwind chronicler Brian Tawn. 
---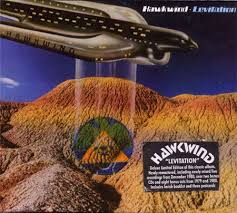 A terrific ( 3 CD ) package by Cherry Red's Atomhenge division. Hawkwind fans will want to snap up this Limited Expanded Edition  for themselves or as a gift for a Hawkwind friend or relative. Makes    a great Christmas or birthday gift!  Along with getting the original Bronze Records "Levitation" ( studio album ), you get two extra  discs  of material ( -containing extra studio tracks and live con-      cert recordings from the era ). Overall, a wonderful package!                                                                                                          "LEVITATION" LIMITED EXPANDED EDITION ( 3 CD ) BOX COVER
---
Well, it just has to be said:  Atomhenge and Cherry Red are doing a bang-up job of re-issuing their 24-bit remasters of Hawkwind's catalogue. Their remasters sound wonderful.  The lavish presentation and copious liner notes ( -by veteran Hawkwind chronicler Brian Tawn ) will be a real treat for any Hawk fan. The beautiful    ( 18 ) page ( -36 if you count both sides  of each page ) B&W and colour booklet that comes with the 3-CD set  is virtually jam-packed with band photos, lyrics and memorabilia from the era. 
---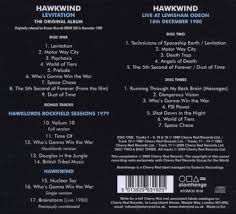 The track listing for Hawkwind's "Levitation" Limited Expanded Edition ( 3 CD ) release.  As you can see, you're getting a raft of content for your money!  Atomhenge and Cherry Red appear to finally "get it"!  Hawkwind's music deserves proper promotion ( -something the band's previous record companies often failed to deliver ).  
---
So when I decided to replace my long since gone vinyl copy of my "Levitation" album -I was glad to find this vastly improved Limited Expanded Edition ( 3 CD ) box set. I found it on Amazon for an unbeatable price ( -it was almost like paying for the standard one disc Bronze album and getting the extra two CD's  for free! ) So,    of course I snapped it up licketty split! 
What really amazed me was all of the extra "bonus " tracks -even beyond  those included in the two addition- al CD''s worth of concert material. These extra 1979' Hawklord's Rockfield Session and Hawkwind tracks total    ( 8 ) "bonus tracks" ( -tacked onto the end of Disc One's standard Bronze "Levitation" album release ). Talk about getting value for your money!    
---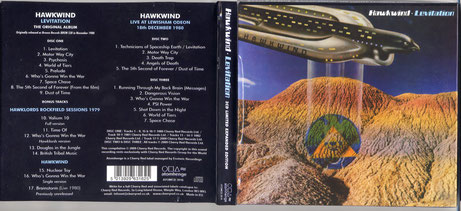 I was pleased to find some Hawkwind tracks I've been searching for ( -like "Valium    10" and "Dangerous Vision" ) included amongst this 3-CD    Box Set's 's extra tracks.                                                                                                      TOP &  BOTTOM PANELS OF HAWKWIND'S LIMITED EXPANDED EDITION ( 3 CD ) BOX SET CONTAINER
---
---
As I was perusing the contents of this ( 3 CD ) release it struck me:  what a wonderful Christmas or Birthday gift this would make for any Hawkwind fan. The three CD's, booklet and lavish presentation would certainly score a "home run" with any Hawkfan I know.  And since it was near Christmas when I came across this release, I went ahead and bought one ( -as a Christmas gift to myself ), in case Santa was a little slow on the uptake this year! 
---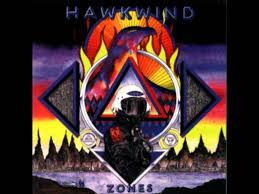 Keith Hale's excellent track "Dangerous Vision" is included        on both this ( 3 CD ) set  AND on Hawkwind's "Zones" album. Take a listen to this superb track by clicking on the link below:  "DANGEROUS VISION"      
( Left  ):  HAWKWIND "ZONES" Album Cover.
---
So, with that preample out of the way -here are my impressions of each track on this superb three CD release:   
DISC ONE:  "LEVITATION" -ORIGINALLY RELEASED AS BRONZE RECORDS ( BRON 530 ), NOV. 1980'.
LEVITATION:  As I recall, my favorite track of the original album.  A rotorhythmic "barn-burner" of a song.        An ode to O.O.B.E's ( -Out of Body Experiences ). And this song WILL in-fact trigger them in listeners. And I'm not joking about that either. Everytime I listen to this song ( -with it's quickening, cadenced riff building faster and faster -I literally feel myself "levitating" off my chair -just like the lyrics say: "although I sit upon this chair,    I rise and float up in the air" ). The repeating riff with it's slightly shifting emphasis of certain notes -combined with the phase-shifted guitar will literally cause a physiological sensation in listeners starting at around 2:53 into the song. Who needs recreational chemicals when you have Hawkwind!  An absolutely incredible track . Hold onto something so you don't float away!
---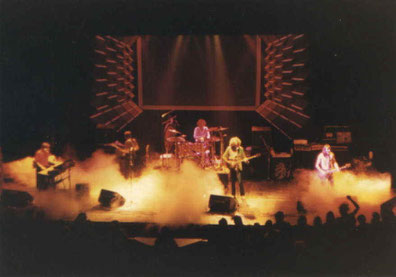 Hawkwind's 79'/ 80' concerts were marked with lots of personnel changes ( -as noted  in Brian Tawn's illuminating liner notes  ).    With ex- Cream legend Ginger Baker now  on drums and Keith Hale subbing for Tim Blake partway through the tour -things    were in a state of constant flux. This 3 CD  set captures this fascinating period in Hawkwind's history.                                                                                                                                                                                                                                                     HAWKWIND IN-CONCERT ( Circa 1979/ 80' )
---
MOTOR WAY CITY:  A happy, mid-tempo ditty about motorway driving, engines and burning off your city-born anxieties via a lead foot. The 24-bit remastering job really brings the song's crystalline acoustic guitar strums forward and emphasizes the lush synth strings. There's a nice riffing jam feel before re-stating the main riff  and fading out. Nice!
PSYCHOSIS:  A white noise, computer voice and panning synth effect number that serves as the intro for:  
WORLD OF TIERS:  A quiet sequencer opening that evolves into some eerie, otherworldly ( -stereo panned ) synth screeches and a bubbling low bass pattern before succumbing to Ginger's hard-rock drumming,
Harvey's thumping bass and Dave's guitar onslaught.  Huw provides some nice lead work as the song progresses. Tim's stereoscopically panned synth screeches add an appropriately "alien" feel to the song.      The nice pastoral acoustic guitar and siren-like synth interlude ( -in the middle ) serves as a nice break      before resuming the song's hard-rock theme before abruptly ending. 
---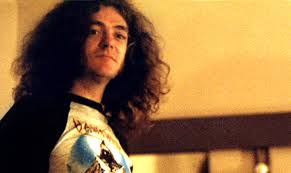 As BrianTawn chronicles in the Limited Expanded Edition's booklet, the working relationship between Harvey and Ginger -could at times get fractious.   
                                                                                                                                                                                      HARVEY BAINBRIDGE ( -BASSIST circa 1980' )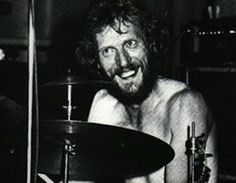 Ginger, looking for work after spending several years in Africa      and  time kicking around in England  -happened upon Hawkwind's "opening" for a drummer ( -courtesy  of Huw's wife who mentioned it to him ). 
*1. ) this, after Hawkwind's longtime drummer Simon King departed. GINGER BAKER ( DRUMS ) 
---
PRELUDE:  A very tasty synth and string-machine opening with plenty of EMS Synthi-Aks twitters before
a synth sweep sequeways it into: 
WHOSE GONNA WIN THE WAR:  A plodding, bombastic militaristic tale about the futility of modern warfare      ( -with it's ever-present spectre of nuclear annihilation ). Harvey gets a bit of a workout with this bass-heavy tune. Slightly reminiscent of "Warrior on the Edge's" Golden Void but not nearly as good. Not one of my favorite Hawkwind tracks but it gets the point across. 
SPACE CHASE:  An exciting, energetic track that serves as a nice counterpoint to the previous song's slow  tempoed torpor. Starts off with some videogame-like synth effects before exploding into a breathtaking incendiary guitar, drum, bass and synth shred-fest!  Huw's propulsive lead work and Ginger's catapulting  drums combined with Tim's added synth flourishes ( -feeding off Huw's leads ), make this a great rocker. Clearly, Ginger and Huw had a ball recording this one. Huw's multi-latticed lead work really shines on this  track as does Tim's pitchbending "give and takes" with Huw.  Altogether an amazing instrumental! 
---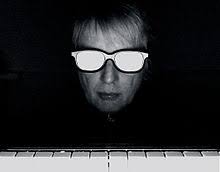 Keith Hale -filling in for Tim on keys and synth, brought with him his superb track "Dangerous Vision". The song fit so seamlessly into the band's set list that I and many fans assumed the song was written by Hawkwind. The track is played phenomenally well by the band and Keith in this concert airing. So well in-fact, that it sounds like a studio rendition. Everyone just "clicked" in perfection on this song. Very nice!
       KEITH HALE ( Keys & Synth ) 
---
THE 5th SECOND OF FOREVER:  Opens with pastoral, plucking guitar, meandering stream sound-effects, crystalline chimes and filtered EMS Synthi twitters before breaking into a cymbal-tittering, quick-tempoed rocker replete with swooshing jet plane sound-effects. Definitely one you need to hear through headphones! Huw pulls off some very tasty electric-guitar work on this one. Tim's low, raspy synth tones ( -added here and there ), add a nice low-end foundation to the song. Very nice! 
DUST OF TIME:  Sounding similar to "The 5th Second" ( -above ), "Dust" could almost be thought of as the second -half  of the latter. Another pastoral interlude is heard before the track erupts into a syncopated bass oriented tune similar to but "different" to "5th Second". The drumming, bass and Huw's lead work are truly superb on this one! And to those who claim Hawkwind is only capable of playing plodding 3-chord blanga,    this tune will set them straight. This is anything  but "simple" musically!
---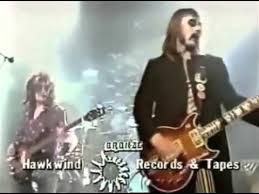 While Ginger Baker's short tenure with Hawkwind was fraught with controversy and at times "friction", you wouldn't know it to look at the 1980' Bronze Record's promo video for "Levitation".    In fact, if you watch closely you'll occasionally see Ginger beaming, obviously enjoying himself!  And if you want a "lift" from your  daily grind -you'll get it by watching this video ( -on You Tube ) from beginning to end. Starting around 2:53 you should literally    feel  yourself rising off your chair!  Try it if you doubt me....  
                                                  *-Click this link to watch the BRONZE RECORD'S "LEVITATION" PROMO VIDEO
---
---
BONUS TRACKS:  ( -FROM THE HAWKLORD'S ROCKFIELD SESSIONS, 1979' )                                                    -tacked onto the end on DISC ONE.
VALIUM 10 ( full version ):  Opens with Dentist Brock's admonition: "Now, ..I don't want you to panic, just    lean back and relax....", as Dave's unfortunate dental patient gags, chokes and screams. This serves as the song's intro as a mounting acid-guitar rotorhythm, synth twitters  ( -and a Farfisa stage organ pecks out a        repeating "mod" rhythmic key figure ). Brock's nonsense lyrics "Mummenshantz, mummenshantz", evolving into "moan and shout, moan and shout" and the cascading drum runs set the stage for some tasty chiffy electric-guitar riffing.  I recognize this tune as one of the tracks Dave tacked onto the end of the interview      tape I sent him back in 1979'.  *( -See my review of Dave's "Earthed to the Ground" album -for details on    these "Missing Brock Tunes" ).
A very good tune!  And this is the extended version  of it. I'm really glad to find it included as a "bonus track"    on this album. I think it was originally released as a single and may have also graced one or two other Hawk-wind albums. A great cut to have!
---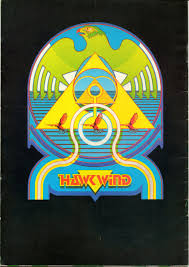 Some album graphics from the "Levitation" Limited Expanded  Edition.
THE BRONZE "LEVITATION" ALBUM LINE-UP:
*DAVE BROCK:  Guitar, Keyboards, Vocals. 
*HARVEY BAINBRIDGE:  Bass, Synth, Vocals. 
*HUW LLOYD LANGTON:  Lead Guitar, Acoustic Guitar, Vocals. 
*TIM BLAKE: Synthesizers.
*GINGER BAKER: Drums, Percussion.  Line-up changes on Disc One's "Bonus Tracks" include: SIMON KING: Drums, STEVE SWINDELLS: Keyboards & Synths ( -on the "Hawklord's 79' Rockfield Sessions" songs )
DISC TWO and THREE:  KEITH HALE subbing for   
TIM BLAKE on Keyboards and Synths.
MICHAEL MOORCOCK:  Vocals on "Running Through My Back Brain". 
---
TIME OF:  A spastic, sloppily played keyboard intro leads into a plodding bass line driven tune.  Some interesting synth "knob-twiddling" saves this track from being a "total loss". Not my favorite track. Next please! 
WHOSE GONNA WIN THE WAR ( -Hawklord's  version ):  This "Hawklord's version"is a good deal more      toned-down than the studio version and the recording has a noticeably "squashed" soundstage. 
A low-fi, low-energy version. Not my favorite.
DOUGLAS IN THE JUNGLE:  I recognize the middle ( BEST ) part ( -an echoing sequencer line ) of this track as some of the music Dave tacked onto the end of the above-mentioned interview tape he sent me. The opening bass part, random sound-effects and song's closing -with the band repeating the phrase "Douglas in the Jungle, Douglas in the Jungle", would've been better left on the cutting room floor. Onwards! 
BRITISH TRIBAL MUSIC:  Opens as a quick, repeating electric-guitar/ bass/ drum roto with synth flourishes -hammered mercilessly into a stuccattoed, jerking mess quite frankly. Definitely, another track best left on the cutting room floor! 
---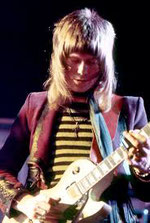 These three discs represent some of the BEST  lead and acoustic guitar work
ever done by Huw Lloyd Langton.  At least that's my opinion. Take a listen to    "World of Tiers", "Space Chase", "The 5th Second of Forever" and "Dust of Time"    on Disc One ( -if you'd like some evidence of this ).  Huw's quick, deftly-played electric leads and emotive acoustic parts have never sounded better! This 3-CD Limited Expanded Edition is a fitting tribute to a great guitarist who's sorely missed. 
                                                                                                                                                                                                                                                      HUW  LLOYD  LANGTON 
---
BONUS TRACKS:  ( -FROM HAWKWIND ): 
-Tacked onto the end of Disc One.
NUCLEAR TOY:  Rhythmic white noise stabs intro. A vocoded tale about the "downsides" of using nuclear weapons as toys. Evolves into a decent sequencer and guitar tune before fading out.
WHOSE GONNA WIN THE WAR ( -single version ):  The THIRD version of this song on this three CD set. Sounds identical to the standard album version except it's shortened. Again, not my favorite Hawkwind tune but nicely done. 
BRAINSTORM ( LIVE 1980' ):  Previously unreleased. A really great and tight Ginger Baker drum solo kicks off this version of Brainstorm. And while most Hawkfans probably don't go in for drum solos -this one's pretty nice. I love this version's syncopated, repeated lyric riffing and cadenced, rotorhythmic jamming. Problem is it ends too soon! But great while it lasts! 
-This concludes Disc ONE. 
---
---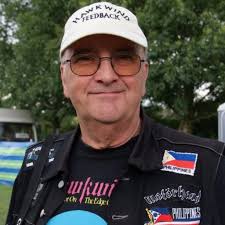 Since I've been referring to Brian Tawn's liner notes throughout this review -I thought it only fitting to give Brian proper credit in this review.
If you're a long time Hawkwind fan like me, Brian's name will undoubt- edly be familiar to you. And I think it's long past due that someone took note of Brian's special place in "Hawk-dom". This short article is a attempt to do just that. I think I speak for Hawkfans everywhere      when I say: "Good job Brian! Thanks for all these years of 
Hawkwind coverage!" 
 BRIAN TAWN ( HAWKWIND'S  "CHRONICLER" )
---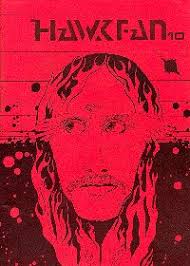 I forget exactly when or where it was that I learned about Brian Tawn and    his "Hawkfan" Zine. No doubt on the back of some Hawkwind album cover.  In any case, I fondly remember reading "Hawkfan" back in the early 80's. 
Like those of you reading this, I looked forward to each and every issue!    And this was especially important as I lived in America -not the UK. Before Brian's "Hawkfan", it always seemed us American fans were a year or two behind on Hawkwind news and developments ( -gleaning our info from      the backs of Hawkwind albums and such ).  Luckily, Brian's "Hawkfan" changed all that!
                                                                                                                           A "HAWKFAN" COVER  
---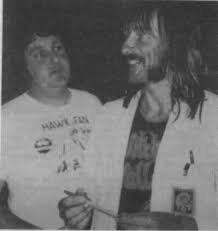 A grainy B & W photo from Brian's "Hawkfan" showing Brian with Dave Brock. The story of how "Hawkfan" acquired it's initial "seed funding"    is an interesting tale.  And one I've just recently become aware of after reading Brian's liner notes from DAVE BROCK'S "EARTHED TO THE GROUND" Compilation Album.  You can read my review of that
album here:  DAVE BROCK'S "EARTHED TO THE GROUND"
( -LEFT ) AN EARLY 1980's "HAWKFAN" PHOTO.         
ATOMHENGE'S use of Brian's liner notes ( -in some of the booklets accompanying their re-masters )
show even they  realize there are few with a more extensive knowledge of Hawkwind than Brian!
---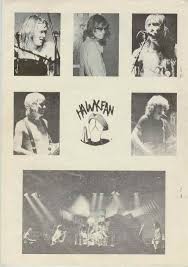 In each issue of "Hawkfan" you could look forward to reading about the band's latest gigs, album releases and studio dates along with fascinating "tid-bits" on each of Hawkwind's "musicnauts" ( -in addition to Brian's excellent concert reviews and opinions regarding which songs were done well or not at each gig he attended ). For us American fans, it was almost  like being there ( -since a plane ticket to England for these gigs ) would 
have clearly been out of the question. Luckily, Brian's "Hawkfan"            filled-in these gaps minus the expense of a plane ticket!   
 ( -ABOVE  ) "HAWKFAN'S "LEVITATION-ERA" ISSUE.
The things I remember most about "Hawkfan" were Brian's good humor and the zine's "sense of community".  And I was continually amazed at how many Hawkwind fans were truly talented artists! ( -as much of the zine's art was submitted by zine readers ).  A few of my thumbnail sketches even made it into the zine. Maybe some of YOUR's did too. Looking back, "Hawkfan" was a terrific "grassroots" effort born of fan's true appreciation  for the band.  And as "Hawkfan's" founder, Brian deserves immense credit for all the hard work he put into it! 
---

A young Brian Tawn ( -appropriately attired in his Hawkfan logoed T-shirt and Hawkwind patched jacket  ).  ATOMHENGE/ CHERRY RED have shown good sense in making use of Brian's detailed and compelling liner notes in some of their 24-bit re-masters. Let's hope they're paying him something for his efforts as his liner notes add mightily to the value of these re-issues!                                                                                                  -BRIAN TAWN "HAWKFAN"!
I know I speak for all Hawkfans when I say: "Thanks Brian!"  -Tomm Buzzetta ( -Hawkfan & CTN Editor ). -END. 
---
---
DISC TWO:  HAWKWIND RECORDED "LIVE", LEWISHAM ODEON, DEC. 18th, 1980' 
TECHNICIANS OF SPACESHIP EARTH/ LEVITATION:  Starts off with Captain Brock announcing: "Technicians
of Spaceship Hawkwind,...your Captain is dead, dead, dead,..." launching into an "okay" but somewhat timid version of "Levitation"( -with an Arabic-sounding instrumental motif surfacing throughout the track ). The song's later cadence-shifting rotorhythms imbued with the "Arab motif" and finishing pretty much "stock" to the studio version. While "okay", I'll take the more "energized", pulse-pounding studio version any day. 
MOTOR WAY CITY:  A decent version of this song delivered with Dave in good voice. While Ginger's drumming  is rock-solid, Huw's guitar parts stray a bit. I'd rank this a "B" version. 
DEATH TRAP:  Harvey takes a shot at the lyrics in this rather pedestrian, churned-out version. However, the jamming "free-formed" second half really "ignites" with it's shouted-and-answered refrains. Ginger's drumming is as tight and spot-on as you could want. Worth a listen for it's second half. 
---
Synthesist Tim Blake at work with a pair of EMS Synthi-Aks. While Tim's work appears on the first disc's original "Bronze released" Levitation album, Keith Hale subs for Tim on synth and keys on  the remaining two disc's "live concert" tracks. 
---
ANGELS OF DEATH:  A slower-tempoed version with Dave adding lots of articulation and inflection ( -perhaps the result of Calvert's influence -having shortly departed from the band at that point ? ). The later parts taking on a "machine-gun" like meter. Ends with synth twitters and Huw's wandering riffings. 
THE FIFTH SECOND OF FOREVER/ DUST OF TIME:  Opens with the taped white-noise panning synth part from the studio version as Huw provides the song's strained electric-guitar opening lick before electronic swooshes and Ginger's drums, Dave's guitar and vocals take over. Devolves into a quiet keyboard "noodling" session in the mid part -before low, raspy synth tones usher in the song's second half ( "Dust" ). Dave's voice takes on a curious "Bob Calvert air" ( -again Bob's lingering influence? ) and the tune ends as it does in the studio version, regaining steam before Dave restates the song's reprise before fading out to audience applause. 
All-in-all, Disc Two is a bit of a let-down. The performances were ( -in my opinion ) a bit lackluster.
But not to worry, Disc Three makes up for this as it's quite good!
---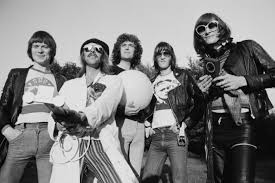 A Hawkwind band photo from the "Levitation" time period.      In this pic Simon King ( drummer ) is seen standing between Harvey Bainbridge and Tim Blake. Simon was a great drummer and much missed by fans. Regardless, Ginger carried on and acquitted himself quite nicely during this period ( -though not without some friction and controversy ). Definitely an "interesting" period of Hawkwind's history!                                                                                                             -SIMON STILL "IN THE FOLD" ( -BUT NOT  FOR LONG! ) 
---
---
DISC THREE:  HAWKWIND RECORDED "LIVE" AT  LEWISHAM ODEON, DEC. 18th, 1980'
Frankly, I had to double-check the date and venue listed on Disc Three. It's the same as Disc 2. I'd thought      for sure it'd been recorded at an entirely different concert. That's how different the performance is! I can only guess that it took the band a while to "get into the groove" ( -because the performances on Disc Three were definitely superior to than those on Disc 2 ). At least in my opinion. Go figure! 
RUNNING THROUGH MY BACK BRAIN ( MESSAGES ):  Sci-fi writer Michael Moorcock  provides a spoken word recitation of this song's lyrics o a skiffing drum beat/ synth noodling and sparse repeating keyboard riff along with Huw's meandering guitar lead. A nice, spare arrangement about messages and paranoia in the modern world.  
DANGEROUS VISIONS:  One of the highlights of this disc. A mid-tempo Keith Hale tune about worldwide inequities, decisions and haunting memories. A consciousness-raising and catchy tune that will "imprint"    itself upon your memory and have you humming it all day. Some very tasty synth work serves as the back-    drop for some truly meaningful lyrics ( i.e: "Games of reality are hard to win.The child of the Third World    looks so thin" ). Everything in this song just "clicks". Ginger's shuffling drum beat, Huw's poignant lead combined with Dave's guitar chord washes and Keith's terrific vocals make for an extraordinarily appealing tune. One of my favorite's!  
---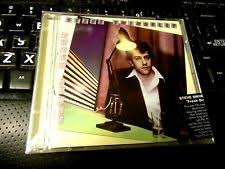 Steve Swindell's keyboard and synth work can be heard on Disc    One's "Hawklords Rockfield Sessions, 1979" tracks.  
---
WHOSE GONNA WIN THE WAR:  The BEST of the three versions included on this Expanded Edition in my opinion. Better even than the original Bronze studio version! This version is delivered with appropriate verve. Dave Brock is in excellent voice on this one. Ginger's "militaristic" style of drumming ideally suits the song.    The tasty guitar-picking and synth chordings ( -and song's building energy at the end ) make this a memo-  rable rendition. 
PSI POWER:  A good, high energy version of this Hawkwind favorite. Ginger's "racehorse" speed-drumming keeps the pace cracking and Huw's blazing lead work keeps the adrenilin pumping. Dave's singing is spot-on throughout. Ends in synth twitters before erupting into:  
SHOT DOWN IN THE NIGHT:  An only "decent" version due to a slight timing/ sync problem. Dave's vocals sound a bit out-of-sync with the band for whatever reason.  Instrumentally, the song lacks cohesiveness.      The shared refrains and Dave's voice suffers at the end. I've heard better versions. 
---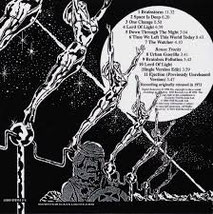 The 1980 version of "Brainstorm" ( -included on Disc One of this Expanded Edition ) is a terrific version. Ginger's prominent drum work adds extra zest to this longtime Hawkwind favorite. This live version's repeated lyric and cadenced rotorhythm "jam-fest" are wonderful.            The only problem is the song ends too quickly! 
( -RIGHT )  BARNEY  BUBBLES'  BACK  COVER  ARTWORK  ON      HAWKWIND'S  1972'  "DOREMI,  FASOL,  LATIDO"  ALBUM.
---
WORLD OF TIERS:  Opens with synth effects and Ginger's random drum runs. Harvey's spoken word intro ushers in a decent version of this song -though Huw's lead work could be better. Ginger's timing and runs    are ( -as always ) spot on.  
SPACE CHASE:  Opens with more synth effects before this adrenilin-pumping instrumental erupts. The super-quick drumming, clacketty keyboard noodling and mounting, multi-latticed guitar mid-part set up a frenetic pace before coming to a close ( -to appreciative audience applause ). 
And that concludes Disc Three. 
---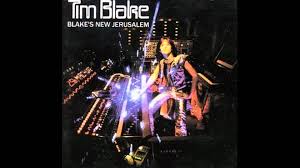 Lasers, crystals and sci-fi themes. That's what I remember about my first Tim Blake record album ( -vinyl ), bought in the late 70's/ early 80's ( -at Streetside Record's "Old Orchard" location in Kirkwood, Mo. ). That, and the      fact  that Tim dedicated the album to "Hawkwind fans".  
I figured if he was into Hawkwind his music must be okay!
           -MY  FIRST  TIM  BLAKE  ALBUM. 
---
So, that's my review of Hawkwind's "Levitation" ( Limited Expanded Edition ) album.  A great package!       
You get tons of material (- two additional CD's worth! ) in addition to the original 1980' Bronze release. 
And a good deal of that extra stuff is prime too! For me, the tracks: "Valium 10" and "Dangerous Visions"
( -which I've been searching for! ), make this package a "no-brainer" -especially if you've been wanting
to get the original 1980 "Levitation" release any way.  
And while Disc 2 and some of Disc 1's "Bonus" Tracks ( -like "Time Of", "Douglas in the Jungle" and        "British Tribal Music" ) don't quite "measure up" -they're nice to have anyway. Some of the package's          surprises included the excellent renditions of "Brainstorm", 'Whose Gonna Win the War" and "Psi Power"        ( -described earlier in the review ). 
Add to that Brian Tawn's superb liner notes ( -which will be a revelation to many American fans who may        not be aware of this "Levitation" era band trivia ), the booklet's terrific photos, memorabilia and color Hawkwind "postcards", and you have the "ultimate gift" for any die-hard Hawkwind fan. And there's      certainly nothing wrong with snagging one for yourself!  All-in-all "highly recommended"!
                                                         -END  OF  REVIEW
---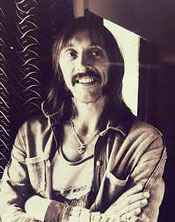 ---