---
3-DVD Set ( 8 Episodes ). 425-minutes ( total ). By Higher Ground LLC in asociation with Sir George Martin. Show of Force production. Produced by Joshua Bennett, Julia Marchesi, Sally Rosenthal, Amy Schewel, Warren Zanes. Series Producer and Directed by:  Jeff Dupre and Marc Chermayeff ( 2016 ). 16:9 widescreen. Dolby 5.1 and Digital 2.0. Includes 20-page color booklet listing over 300-songs contained on Series' eight episodes.         Rated 14 A ( -for some strong language, nudity and drug references ).                                                                 
---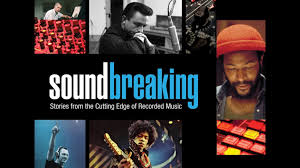 PBS's "Soundbreaking" Series is for those who love     music and the art of making music. The 3-DVD set gives you a behind the scenes look at the music, personalities and technology of twentieth century recorded music           ( i.e:  contrasting it's evolving music genres, fads and technology against the changing backdrop of American     and British culture ).
---
A while back, I channel-surfed into a new PBS series called "Soundbreaking". And although I stumbled across   it midstream ( -the local PBS channel was playing it's eight episodes on consecutive nights ), I found myself mesmerized by it. I was intrigued enough to set aside time each of the following nights to catch the remaining episodes. Ultimately, I ended up purchasing the 3-DVD set. Very few things on PBS are interesting enough for me to watch much less plunk down my hard earned cash for. This one was. 
---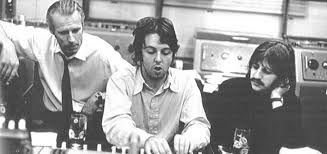 Tapping into the recollections of Sir George Martin, the series tells the story of the Beatles' rise to fame in the 60's ( -and how their collaboration and innovation spanned the Atlantic to influence American groups like the Beach Boys and British groups that followed like Pink Floyd ). The series also explores the trans Atlantic "cross-pollination" of American Blues with British groups like the Rollings Stones. 
---
Exploring various facets of 20th Century recorded sound, the eight part series addresses everything from evolving music genres, fads and formats to production styles and recording techniques. Encompassing every-thing from Mississippi Delta Blues to Big Band to Rock n' Roll, Electronic, Rap and House ( -and stopping long enough to zero in on important junctures in 20th Century recording -like Sam Phillip's Sun Record's grooming of Elvis and Dennis Wilson's studio crafted "Pet Sounds" album for example ), the series is an absolute "must   have" for anyone wanting to understand the history of recorded America music from the inside-out. 
The Series eight episodes unfold as follows: Disc 1: "The Art of Recording". This episode explores the role       of the producer ( -and how they try to "get the best" out of the artist ). Some seminal quotes culled from this episode include Brian Eno saying producers "Were the people who said: Here's this whole new set of ( tech-nical ) possibilities. We're going to find out what they can do", and Quincy  Jones' quip that a producer "Has   to forge a connection of love and respect with the artist". Producer Don Was explains: "The producer has to create a vibe of safety in the room where they ( -the artist ) can ( creatively ) "go out on a limb" ( -and not be afraid to fail ).
Tom Petty recalls the story of how his simple guitar riff morphed into the song "Free Falling" with the direct-   ion of his producer Jeff Lynde. Elton John adds the insight: "They're ( producers are ) the people who sit in     the booth hearing something that you might play -that you might just discard -and he'll say "hang on a minute   -that was really GOOD -go back to that!" 
The episode also lets Sun Record's founder and producer Sam Phillips explain in his own words, how he searched for uniquely talented performers ( -like BB King and Elvis ) and allowed them to showcase their uniquely "individual" talents by stripping away their self-doubt and inhibitions. Writer Peter Guralnick        sums up Phillips' approach by saying: "He ( Sam Phillips ) was looking for individualism in the extreme".
---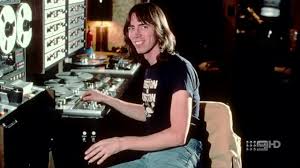 In Episode 2 ( "Painting with Sound" ), studio master-mind Tom Sholz explains how he single-handedly craft-   ed "Boston's" million-selling sound in his basement stu-dio ( -without his record company knowing it had been     a "one-man" multi-track effort ). Tom also recounts       how ( -after "More than a Feeling" charted ), he raced     to assemble an actual band to tour the album.
---
Episode 1 also tells the story of producer Sir George Martin's tutelage of the Beatles ( -from a "rough-and -tumble" club-gigging quartet into a polished world class "supergroup" ). Episode 1 also explores producer       Phil Spector's ( mid 60's ) "Wall of Sound" recording technique as well as highlighting period hits like the  Righteous Brothers' ( "Lovin Feelin" ) and producer-less performers like Joni Mitchell as well as perform-     ers like Sly ( -of Sly and the Family Stone )'s early forays into home-studio production.
Also covered in this episode are Hip-Hop's "mash-up" style, Dr. Dre's "L.A. sound", the use of sampling in music, Rick Rubin's Run DMC and the Beastie Boys. 
Episode 2: "Painting with Sound" explores the role of the technology in creating music that couldn't exist outside of the studio itself. From the introduction of recording tape to the quest for more and more record-   ing tracks ( i.e:  4, 8, 16, 24 track multitrack recorders ) during the 1960's and 70's to the use of electronics and synthesizers ( -by groups like the Who and Pink Floyd, including performers like Stevie Wonder).     As Brian Eno says of the period: "It's the birth of a new art form -they were starting to make music you   couldn't actually play. It  couldn't actually exist outside of a recording-studio". 
The episode explores how all of this new found technology now allowed musicians to manipulate, alter         and expand their sonic capabilities in the studio. Tom Sholz' story of multitracking Boston's chart-topping       hit "More than a Feeling" in his basement is told and Les Paul's early experiments with multitrack tape man-ipulation ( -recounted from vintage TV footage of himself with wife/ singer Mary Ford ) document tape's earliest contributions to studio craft. Guitarist Jeff Beck and Eric Clapton comment on how Les Paul's  "multitracked sound" influenced them. 
Sir George Martin explains how Abbey Road's newly acquired magnetic tape machines allowed him to manipulate the Beatles' music in ways not possible prior to that time. Martin's son demonstrates his       father's technique using the Beatles' tape loops from their song: "Tomorrow Never Knows" . The Leslie   Rotary Speaker effect's contribution to that song is explained by Tom Petty. Producer Tony Visconti sums       up the era's innovation by commenting: "This was the dawn of creating a new kind of magic -this was really       fantasy stuff".
---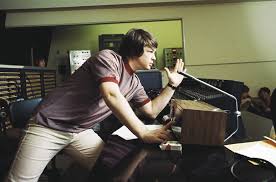 Episode 2 "Painting with Sound", documents the story    
of how Brian Wilson's marathon recording sessions eventually lead to the Beach Boys' classic track: "Good Vibrations". 
Glen Cambell's recollection of the sessions: "We got to sit   there for about 3 1/2 hours as he ( Brian ) ran his finger up   that thing going "DaaarAaauuungg!", recounting Brian's signature theremin line from the song. 
---
The story of Brian Wilson and the Beach Boys' trans Atlantic rivalry with the Beatles ( -leading to the Beach Boys' "Pet Sounds" and Beatles' "Sargeant Pepper's Lonely Hearts Club Band" albums ) is unravelled with fascinating period film-footage. And how "Sargeant Pepper's" impact in-turn influenced Pink Floyd ( -by once more "upp-ing the ante" on studio craft ) lead to Pink Floyd's early 70's masterpiece "Dark Side of the Moon". Pink Floyd bassist/ lyricist Roger Waters -remarking on "Sargeant Pepper's" influence: "That album opened Pandora's Box for everybody". 
Studio footage of Pink Floyd recording "Dark Side of the Moon" ( -and using the EMS Synthi-AKs synthesizer ) is shown. A present day David Gilmour recalls: "I can clearly remember sitting and listening to the mix ( -of "Dark Side of the Moon" ) all the way through and thinking, "My God, we've really done something fantastic here". Episode 2 closes with Lindsey Buckingham's recollections of the fractious recording of Fleetwood Mac's less than auspicious "Tusk" album ( -after "Rumors" success ), and the Eurhythmics and Beck talk about their       old-school analog home recording studio days. Justin Vernon closes out the episode relating his Pro Tools recording experiences. 
---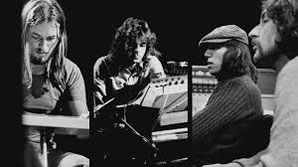 Pink Floyd members David Gilmour, Roger Waters, Rick Wright and Nick Mason are seen in the studio multitrack- ing their seminal "Dark Side of the Moon" album. 
Roger Waters and David Gilmour comment on the album from their present day perspective. Even today DSOTM serves as a high water "benchmark" of studio craft.
---
Episode 4: "Going Electric" tells the story of how the electric amplification of instruments ( -starting with trans-planted southern blues guitarists like Charlie Christian ), and innovations in electronics during the 1960's and 70's ( -including the Moog Synthesizer ), gave artists a new sonic playground in which they could manipulate and alter their music and sound.  Jeff Beck and George Benson explain how the electric guitar is able to bring out the subtle nuances and emotions of the artist ( -B.B. King is seen playing some emotive blues ) or used as an "assault weapon" with overdrive, fuzz and distortion ( -as a high-decibel grunge band shreds on stage ). 
Steve Winwood explains how the Blues "jumped the pond" influencing British groups like the Rolling Stones. Dave Grohl's humorous story of how he got a distortion pedal and annoyed his mom is amusing.  Jeff Beck  explains how Jimi Hendrix's guitar prowess and showmanship "upset the apple cart" ( -the segment is accom-panied with vintage footage of Jimi's on-stage theatrics ). Jimi's engineer Eddie Kramer explains some of the pioneering studio effects ( i.e: phasing and tape tricks ) used on Henfrix's abums. 
Who engineer Glyn Johns tells of how Pete Townsend blew him away with his home studio synth noodlings     ( "Ba Ba O'Riley", etc. ) and Roger Daltry relates how he spent most of the 1960's not hearing what he was singing due to the era's escalating amplification wars ( -quipping it's probably the reason why he developed such singing "lungs" )
Episode 4 continues on with the story of Bob Margouleff and Malcolm Cecil's formation of their "Tonto's Expanding Head Band" studio partnership ( -which lead to a string of chart-topping albums when Stevie Wonder co-opted their synth expertise to fuel his 1970's "platinum hit" career ). Margouleff explains: "The synthesizer really migrated from the music-lab to the pop music scene because of Bob Moog", citing other synth stars of the era such as Beaver and Krause and Keith Emerson who also latched onto Moog's vision.
---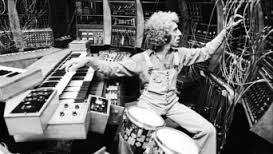 Malcolm Cecil, one half of the "Tonto and the Expanding Head" studio partnership that helped propel Stevie Wonder's 1970's chart-topping career. Bob Margouleff, the other half of that duo is heard commenting on their partnership with Stevie Wonder:
"We let him ( Stevie ) into the studio and we didn't wake up for another five years". 
---
Bob Margouleff's genuinely funny anecdotes pepper Episode 4, including this one describing his introduction to Devo: "I'm sitting in the front-office and these two little Volkswagon "bugs" come into the parking lot and   the "Devos" get out. They're wearing jumpsuits and hardhats -with like a tank on the side -with a plastic hose going up their nose", continuing: "Even the jaded people at the record-plant had to look at that one twice..."
Giorgio Moroder describes the construction of Donna Summer's electronic dance hit "I Feel Love" and the studio trick ( reverb/ delay ) that contributed to the song it's later verse "stutter". The demise of the 80's era     electronic dance music craze is summed-up by Jeff Beck: "Everything was determined by this regular beat. Synthesizers? Go on -get on your bike and get outa here!" 
Brian Eno discusses his "sound as painting" approach to airport music. DJ producers Skrillex and Tiesto      bring us up to the electronic dance music present day ( -and today's mobile laptop composition techniques ). Bob Margouleff observes "The laptop is the folk-music instrument of our time" adding "EDM ( electronic dance music ) is the new folk-music of our time" ( -as EDM ravers are seen grooving to the pulsing electronic beat ). 
---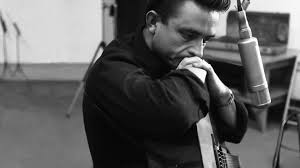 Johnny Cash's career is given a new "lease on life" under Rick Rubin's production. The segment features clips of   Rick and Johnny talking and recording. By coming at things from a "different perspective" and acting upon Rick's ideas Cash's confidence is reinvigorated. Cash's long career   ends on a musical high note. 
---
Episode 4 closes with the story of how Dan Auerbach, Patrick Carney and the Black Keys ditched the laptop ethic for a decidedly "old-school" stint at the classic Muscle Shoals recording-studio ( -to record "Too Afraid     to Love You" ). In-studio footage of the Black Keys recording session is shown. Bob Margouleff sums up   Episode 4 by observing: "We have to embrace change and celebrate it".  
And I could go on and on describing each episode but I think you get the point. "Soundbreaking" is          
a very detailed look into the art of music and recording. It offers up genuine "nuggets" of insight for those     interested in the recording medium. A lot of those insights come right from the lips of those "in the trenches" so to say. The actual artists, session-performers and engineers themselves ( -with follow-on commentary     from various writers and music journalists ). Below are thumbnail descriptions of the of the remaining episodes: 
EPIDODE 3: "THE HUMAN INSTRUMENT: Explores singers and the special qualities that distinguish the truly great ones from the mediocre ones. Employs rare studio footage of the great ones ( -from Bing Crosby and Frank Sinatra to contemporary singers like Christina Aguilera and Adele ) and examines how capturing vocal magic can sometimes mean abandoning "studio perfection" ( -to capture raw emotion "warts and all" ). 
EPISODE 5: "FOUR ON THE FLOOR": Examines the art of constructing an irresistible "beat" ( -from drums     and bass to drum-machines, synths and samplers ). Shows the interconnected relationship between the   dance floor and the recording studio. Segments include Little Richard, James Brown, Disco and EDM.
EPISODE 6: "THE WORLD IS YOURS": Covers Rap, Hip-Hop,the use of "sampling" ( i.e: lifting sound fragments from records and CD's and incorporating them in new songs ) and the resultant copyright quagmire this prac- tice caused ( -and still does ). The Beastie Boys and Public Enemy are among the performers profiled.
---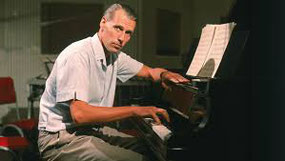 Sir George Martin is seen throughout the Series, commenting on his work with the Beatles and on the changing face of the recording studio ( -from tape to multitracking and beyond ). Sir George's son gives a demonstration of the live tape-loop trickery his father and the band employed on their ground- breaking track "Tomorrow Never Knows". 
---
EPISODE 7: "SOUND AND VISION": Explores the 1980's era of the music video and how MTV married audio to video -creating international mega-stars like Madonna, Michael Jackson, Billy Idol and the Eurythmics.
EPISODE 8: "I AM MY MUSIC": Tracks the history of recorded music formats ( -from vinyl 78's and 45's to cassette tapes -to the effect of Sony's portable "Walkman" players -to today's CD's and MP3 downloads ).
Examines the effect these succeeding formats had on the music listener's experience.
EPISODE 8 -BONUS FEATURES: Included on Episode 8 are a number of interesting "extra segments" and interviews like:  Elton John and Sir George Martin conversing about Elton's gift for coming up with melodies     for the written word. And Ringo Starr discussing drums and drumming ( -I found this one particularly interest-ing and amusing ). Then there's Roseanne Cash's story about taking her 14-year old son to the present day   Sun Records studio ( -where her father Johnny had recorded in the 50's ).
There's also the story of how producer Linda Perry came up with the hit song "Get the Party Started" and   found Pink to sing it. Les Paul relates how he and Charlie Christian met and knocked around in New York City for a while ( -and the influence Charlie had on him ). Lastly, Boston wunderkind Tom Scholz gives us a tour of his Hammond B3 organ ( -playing the signature organ riff from a Boston song right up to the point where the vocal comes in -quipping, "if you thought I was going to sing,... forget it!" ).
---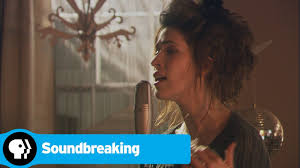 Singer Imogen Heap demonstrates the art of building       up a vocal track through successive overdubs ( -on the "Human Instrument" episode ). Her impromptu vocal "riffing" is actually quite impressive -showing what can    be done using the technique.
---
So, to sum-up, let me say that I enjoyed watching this Series immensely. If you're into music and recording you're going to love this documentary too. The rare archival photos, in-studio and concert footage is wonderful. The interviews ( -with today's top flight producers, performers and engineers ) are truly fascinating. They'll give you a glimpse into what it takes to craft popular music using today's technology ( -while simultaneously giving you some historical perspective on recording techniques of the past ).  
The production values are superb ( -making excellent use of archive stills, studio session snippets and actual concert footage stitched together with solid editing and compelling split-screen techniques). Overall, this slickly produced documentary will keep you interested throughout. And unlike a lot of "docos" I've seen, you'll act-ually come away from it feeling you've learned something ( -especially if your a home recording enthusiast, musician or vocalist wannabee ). 
So, "thumbs-up" on all counts from my perspective. This is one documentary that's actually worth buying!         I know that I'll be referring back to it in the future ( -both to learn from and for sheer viewing pleasure ).   Simply put, "Soundbreaking" is HOW you make a documentary about music and recording!