---
---
PREFACE:  I've been a Mahogany Rush fan since 1975. Unfortunately, that's around the time St. Louis FM rock station KSHE-95 stopped playing their music. A big loss for all St. Louis rockers! None-the-less, I've kept up with the band's output throughout the intervening years -being a big fan of Frank's "original" tunes ( -numbers like "Dragonfly", "Strange Universe", "Land of 1,000 Nights", etc. ). I thought it was about time to remind U.S. rock   fans and FM radio stations what an incredibly innovative musician Frank is -ergo, this interview.  Enjoy! 
---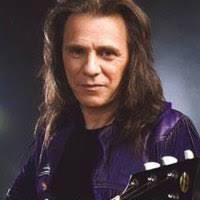 Despite garnering the admiration of a new generation of rock guitarists
( -including Zakk Wylde of Black Label Society ), Frank "keeps things real". No "Guitar God" attitude here. In the following interview we discuss what currently gets his "creative juices flowing", his gear, the sorry state of FM rock radio ( -with Mahogany Rush still  getting precious little airplay here  and in Canada ) and his three incredibly talented daughters. Proving
I guess, that creativity simply "runs in the family". 
FRANK  MARINO:  Founding member Mahogany Rush.
---
Tomm ( Creative Tech Nerds/ CTN ):  Currently, what gets your "creative juices flowing" inspiring you create?
( -is it the simple fun of messing around with your guitar to find new licks or just everyday life and family that prompt new song ideas for you nowadays ).
Frank Marino:  It's usually been when I'm actually playing guitar, or even drums or keyboards. All of my albums have had the songs being written as the recording session went on, day-by-day, so playing is what gets things happening. 
CTN:  I remember coming across something ( -either an interview or a YouTube video -I don't recall which ), where you mentioned a DJ who only seemed interested in playing your "cover tunes" ( i.e: "Purple Haze", "Roadhouse Blues", etc. ). For me, it's always been your "originals" that have grabbed my attention. 
---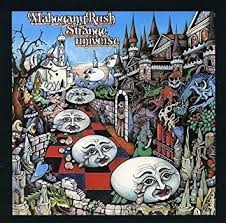 "STRANGE UNIVERSE" 
One of Mahogany Rush's best in my humble opinion. You'll find the tracks "Strange Universe" and the show-stopping "Land of 1,000 Nights" on this 1975 release. When introducing people to Frank and Mahogany Rush's music I love to play "Land of 1,000 Nights" and  watch their jaws hit the floor. This song never fails  to impress!  
 ( RIGHT )  ARTWORK  FROM  THE  "STRANGE  UNIVERSE"  ALBUM
---
What immediate thoughts come to mind when these "originals" are mentioned:  "Dragonfly" 
"Strange Universe"  "Land of 1,000 Nights"  "Strange Dreams"  "Tales of the Unexpected"?
Were any of these particularly difficult to write or "get right" in the studio ( -and did any originate from 
a memorable experience or specific inspiration you had )? 
Frank Marino:  You're right about radio playing mostly songs I'd covered. It wasn't just one DJ, it was          pretty much most of mainstream radio everywhere. I really don't know why they usually did that. I guess    that's why I wasn't on a lot of radio at all, since the number of covers I've done over the years is pretty small, compared to the total albums.  I think the total number of covers I have on all of my studio albums is only six;    two on "Tales of the Unexpected", three on "What's Next" and one released as a Bonus Track on the late        re-release of "Full Circle". The Live releases have a few more, but that's because they are live, and we do    more jamming when playing a gig. Consequently, bands do tend to cover tunes during gigs, just for the fun      of it, especially during long jam-shows like we do. But even those only add up to seven or eight more and  that's over three Live Albums, and two of those are double-length. So I really can't explain radio's insistence    on sticking to those few covers. Perhaps the programmers felt that playing my own tunes amounted to a kind  of endorsement, and they weren't prepared to do that for my original material because they weren't really hits, but were willing to do so for covers which at least had been hits for other artists. That way they get my band on the air in a "safe" way for them. That changed with"Strange Dreams", which was played rather heavily on radio for a while, but that was the last time that happened, and pretty much the first too. And I've always found it rather ironic that the only song of mine that got that kind of attention on radio is also the only guitar-song I've ever done that has no guitar solo. But most of my own songs are tied to an experience of mine, in one way or another, and certainly the ones you mentioned. None of them were hard to get right. It just takes quite a bit of time to do it properly, if you're willing to take the time. And I did take quite a bit of time on most of them, not on the writing which came in only a few minutes in every case, but on the recordings. 
---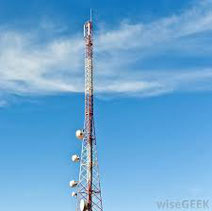 Radio programmers seem to favor Mahogany Rush's cover tunes -perhaps as Frank speculates -because they're not quite ready to give    the band's "originals" their full endorsement ( -whereas playing their "covers" at least allows the station to "play it safe" since the tunes     were at least "hits" for the bands that originally recorded them ). 
Hopefully, if I can find a St. Louis FM rock station willing to give my  "Music From the Cutting Edge of Rock"  radio show a chance -we'll                                                                 begin to hear more Mahogany Rush on the radio. And NOT just  Frank's      -UPSETTING  MIDWESTERN            covers but his classics like:  "Land of 1,000 Nights", "Strange Dreams"            FM'S  "APPLE CART"                   "Dragonfly", "Strange Universe", etc.  Stay tuned!                                                                      
---
CTN:  I saw your recent Facebook post regarding Zakk Wylde and Black Label Society's visit ( -and their presenting you with an incredible custom guitar ). Obviously, you've had a huge influence on Zakk and plenty  of other young guitarists. Are there any specific artists or bands you'd like to share the stage with in either an outdoor Festival situation ( -or collaborate with on a "studio project" )? 
Frank Marino:  Oh, there's quite a few. And I have certainly already shared quite a few stages with some        of those already, though not too many collaborations, if any. That might be a nice thing to do at some time,    for sure. 
---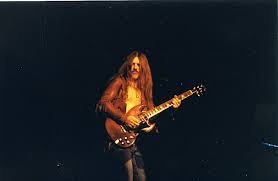 Frank and Mahogany Rush have played their share of music festivals over the years. The idea of collaborating on a studio project with another band or artist might make for an inter-esting future project. I'd love to see it happen!  -Tomm ( CTN )
( -LEFT  )  FRANK  "LIVE"  ROCKING  OUT
Zakk Wylde is one of the "next gen" guitarists influenced by Frank's unique style, versatility and "chops". A studio collaboration between Frank and some of these "next gen" artists might make for an interesting future project. I wonder what Frank and other Mahogany Rush fans think of this idea. Chime in! 
                                                                     ( -RIGHT )  ZAKK  WYLDE  "SHREDDING" 
---
CTN:  OK, since the name of our site is "Creative Tech Nerds", I have to ask you at least one ( or ) two        "gear related" questions. Let's start off with your current "go to" guitar ( -I'm guessing  it's either
Zakk's new custom or another SG? ).  Has it been left "stock" or fully tricked-out and modded?
Have you added any "secret sauce" pedals, effects or load boxes ( -still using the
Two  Notes "Torpedo"? ) to craft new and unique "tones"? 
Frank Marino: My go-to axe has always been one of two of my early SG's;  the 61' Les Paul/ SG with PAF's
or a 64' with DiMarzio Virtual Vintage Blues pickups. None of my stuff is "stock", neither guitars, amps or pedals. Even the 61' has been thinned out a bit, the neck given a compound radius, and the tremolo is a Vibrola from a later SG. Whether or not the "Zakk Axe" becomes one of the main ones remains to be seen.
It's only been a couple of weeks since I've received it and I haven't done a gig yet.  As for pedals and amps,
I build or modify everything;  floor pedals, rack gear, amp heads and speakers...you name it. Everything
I have is unique, even duplicates of the same thing compared to one another. 
---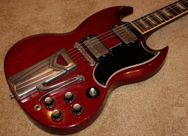 Some "classic" axes that have played a part in Frank's music. A longtime    SG  fan ( -owning an early 61' Les Paul/ SG and a 64' with DiMarzios ),    Frank is not only proficient on guitar, he's also played synths and Mellotron on various album tracks. Frank also professes an affinity for the Hammond B3.  *NOTE:  to Frank and any other Hammond lovers who may be reading this -check out the 74' release "Floating" ( -by the German group "Eloy" ).      ( -ABOVE )  A  VINTAGE  SG
Songs like "The Light from Deep Darkness", "Plastic Girl" and the album's title track "Floating" contain      some of progressive rock's tastiest Hammond B3 licks. Definitely worth checking out!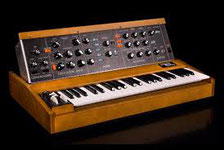 The Minimoog. Another "classic instrument" that Frank has employed brilliantly on certain tracks. This instrument's wide tonal palette and rich textures have added much to Frank's music over the years. Let's hope we hear Frank's Mini and his B3 trading licks in an extended solo in  one of his future songs. Maybe the "Eloy" cuts above will help to    spark some inspiration.       -Tomm/ CTN.                                                                                                                                                              ( -ABOVE )  A  MINIMOOG 
---
CTN:  One more gear question:  And I doubt this has ever been asked before:  Your use of synths. I know it's "unfashionable" for guitarists to admit to using synths but I think the way you've employed them in songs like "Strange Universe" and "Strange Dreams" is pretty damned epic. For example:  that Minimoog bassline and repeating 4-5 note arpeggio that starts half way through "Strange Universe" and keeps time throughout the tune. What an incredible sound and timing device that was! I think I could listen to that sinewy synth line all day long! Unfortunately, most fans will probably never fully appreciate how much that synth line adds to that song. 
Did you play that "Strange Universe" bassline ( -and speedy arpeggio ) yourself?  How would you describe    your approach to using synths?
Frank Marino:  Yes, I did play that line on my Minimoog. I played all of the keyboard stuff on my records except for a Blues piano on my first record ( "Maxoom" ), and a synth solo on "Lady" ( -on "World Anthem" ). I also didn't play the synth on "Genesis" or the piano on "Full Circle" ( -both on "Full Circle" ). But, unless I'm forgetting something, all the other keyboards you hear on various tracks, Minimoog, B3, Prophet, Mellotron, etc. were parts I played myself.  My approach to using synths is to look for something musical, or to enhance the song in some way, usually on Bass parts or orchestral pads. The other thing I've always liked is Hammond B3 ( -I have a 57' ). I'd kind of like to use more of that in more songs these days. That may be how I go on tour the next time; with a B3 player instead of a 2nd guitar.  
---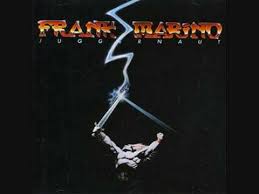 "JUGGERNAUT"                                        Featuring an epic Frank Frazetta front cover ( -I wish more albums featured this brilliant painter's work! ), Frank's 1982' "Juggernaut" release garnered a good amount of airplay. The entire cost of the album is justified by the cut "Strange Dreams" alone in my book. And the other cuts aren't half bad either! Another brilliant exam-ple of Frank's innovative guitar and synth work. Worth adding to your collection.     -Tomm ( CTN ).                                                                                                                                     ( -ABOVE  )  JUGGERNAUT'S  FRAZETTA  ARTWORK 
---
CTN:  I've read that you have three daughters who are musically and artistically inclined. Can you tell us a little about them and what they're currently doing either musically, artistically ( -or in the field of entertainment )? 
Frank Marino:  My eldest, Angela, is a true classical soprano, with perfect pitch and a 5-year University Graduate in Music. She teaches Voice as her day-job. She's also a score composer, and plays multiple instruments ( -piano, harp, tenor and alto recorder, ocarina ). Her dream is to get a gig with a video-game company, particularly Nintendo, composing symphonic music for serious-type games. You can check out    some of her more "airy/ ethereal" stuff at:  https://soundcloud.com/user-925974887 . She has plenty of    other different stuff as well, but it isn't published yet. For now she is also involved in Musical Theater,        doing acting, singing and dancing in a semi-pro off-broadway environment. 
---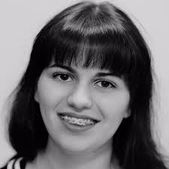 Initially, I thought I'd only be spending a few moments checking the "links" Frank had listed for his daughters. I was totally unprepared for how incredible Angela's music was and how terrific his daughter Iliana's boyfriend's band "Caribou Stew" was. I spent WAY too much time listening to both of them! Maybe Frank will cut me some slack regarding how long it's taken me to get    this interview online because to this. I simply couldn't stop listening!
( -ABOVE )  ANGELA  MARINO                                                                                                            Angela's cuts "Seaside Ruins", "Prologue" and "From the Heart" were truly beautiful and quite emotionally engaging. And while she wants to score music for Nintendo I think she's aiming way too low. She ought to be sending out some of her demos to the major Hollywood movie studios. Her stuff is as good ( -or better than ) any of the music scoring work I've heard coming out of Hollywood these days. Hans Zimmer should be afraid.  Very afraid.  Angela's scores are THAT good!       
---
My middle daughter, Nadia, plays guitar rather well, mostly acoustic but also electric, and sings. She can play    a lot of my songs as well, and often does ( -just to stick it to me! ). I had even considered giving her the 2nd guitar gig in the band, but she wants to do things in life that are not music centered in any kind of professional way. She'd like to keep it as a hobby and an art. She is also a really great photographer, and an artist/ painter. 
My youngest daughter, Iliana, also plays acoustic guitar and a bit of alto sax. She can sing too. She is rather involved in her boyfriend's Country/ Americana band, "Caribou Stew", but not as one of the musicians ( yet! ). They're pretty much just getting started and have made a recording. Her boyfriend, Ben Vallee, leads the group on guitar, pedal steel, banjo and mandolin. They've got a page or two on the Net, but here's a link to that first recording they did:  https://cariboustew.bandcamp.com/album/gee-webber
---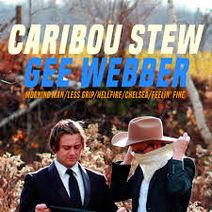 And when I checked out the link Frank posted for his daughter Iliana's      ( -boyfriend's band ) "Caribou Stew", I was once again blown away. 
I hadn't expected to hear such a polished and professional band! And  that comes from someone who's never cared much for country music.  This band has made me a "believer". If this is what country/ Americana music can sound like I'm "all in". Their songs "Hellfire", "Morning Man" and "Chelsea" won me over. The acoustic guitar, banjo and pedal steel    work and vocals are spot on. This stuff is ridiculously good. Check out    the link above and give this band a listen!                                                 "CARIBOU  STEW'S" FIRST RELEASE                                                                                                                                                                  And while "Caribou Stew's" country style is different from what I'd hoped to air on my "Music From the Cutting Edge" show, I'd certainly be up for playing ANY of the aforementioned cuts on my show. The sound is so fresh and engaging you immediately take a liking to this band. At least I did. Frank's engineering on this album really shines through too. It's "audiophile-quality" top-to-bottom!  
---
CTN: As I mentioned previously, I started my "Music From the Cutting Edge of Rock" webpage:   http://creativetechnerds.jimdo.com/music-from-the-cutting-edge-of-rock/ to help promote the music of innovative artists and bands ( -hopefully encouraging more FM rock stations in the US to play their music ).    Are rock stations there in Canada giving your albums decent airplay these days? If so, feel free to name a      few and give them a "plug" here!
---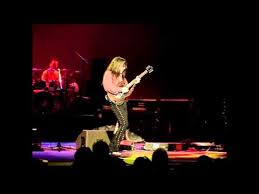 Frank Marino in the spotlight. Let's hope FM rock stations        start putting Frank's music back in the "spotlight" again          with more airplay here in America and in Canada!     
---
Frank Marino:  As I said, very few people actually play my music on the air and, if they do, they still go with the covers. And that includes Canada. As a matter of fact, Canada is the one place where I am probably played the least in the world, unfortunately. Go figure.
CTN:  Last question:  At the end of your Zakk Wylde/ BLS Facebook post you mentioned treating Zakk and his band to a good "Sicilian meal" the next time they visit. I'm Sicilian ( -on my dad's side ) and wondered if that's your heritage as well? If so, have you mastered the art of cooking any of those Sicilian dishes yourself?
As for me, I'm far better at scarfing-down such Italian dishes ( i.e: pizza, spaghetti, raviolis, etc. ) 
than I am at preparing them! 
---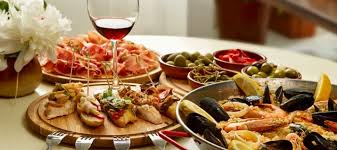 On behalf of all Frank Marino/ Mahogany Rush    fans: Keep the Italian cooking coming Denyse! It's obviously had a great effect upon both Frank and your girl's creativity. You've heard the term "brain food" right? Maybe pasta holds the key to musical creativity.  Anyway, it sounds like a good enough excuse to "pig out" at my next Italian meal!                   DENYSE'S  COOKING: "CREATIVITY  ENHANCEMENT"?    
---
Frank Marino:  Well, fortunately I have a wife ( of 38 years ), Denyse, that learned all of the Italian/ Sicilian food from my dad, and all of the Syrian/ Lebanese food from my mom, over all of those years...not to mention that her own mom was Italian too. And both of our moms, and my dad, cooked really well, and very tradition-ally. So I get to eat more than I need to cook it. But I do know how to do it if I have to, and I love to bug Denyse by telling her "what to do"! It drives her ( and the girls ) nuts. But in truth, I'd rather just wait until it "magically appears" on the table. I'm just a real lazy SOB when it comes to stuff like that!                                                                                                                                                                                                                                                                             -END  OF  INTERVIEW-
Tomm/ CTN:  Thanks for taking the time to do the interview Frank. 
---
Be sure to "weigh-in" on our "QUESTIONS OF THE MONTH" regarding Mahogany Rush.
Just click on the link ( -below ), scroll down the page to our "Questions of the Month" and CAST your VOTES!  Mahogany Rush "Questions of the Month" 
---