---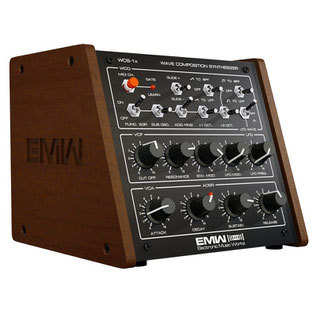 If a Moog Modular had babies, they might look and sound  like the EMW WCS-1x. If you're looking for   a truly distinctive synth with a beefy "Moog-like" sonic signature, you need to give the WCS-1x a serious look. At a street price of just under $300.00 ( U.S. dollars ), the WCS-1x also happens to be an incredible bargain. Tip to the wise: Snag a couple of these mini- monsters while they're still being made!
---
I recently discovered Electronic Music Works ( EMW ) while surfing the net. They've actually been in business since 2011. I was a little surprised to find a Brazilian synth manufacturer. But why should I be?  Brazil is a tho-roughly modern country with a burgeoning high-tech manufacturing sector. And I'm glad to see that synths are now among the country's export products. 
Equally surprising to me was how prolific this company has been during it's short history. Under the guidance of Paulo Sergio dos Santos, EMW has unleashed a veritable blizzard of interesting ( -and great sounding! ) synths, euro-rack modules and MIDI products. Be sure to visit their website by following the link provided below.  
Being a small-synth afficiando, I was immediately attracted to EMW's affordable WCS-1x. It's reminiscent of Oberheim's venerated SEM expander ( -in that it provides you with a complete single-voice synth module in a box ). And a quite attractive box it is too! With it's fetching sloped metal face plate, wood side cheeks and solid feeling knobs and toggle-switches, you'd guess this thing retails for quite a bit more than it's reasonable price.
---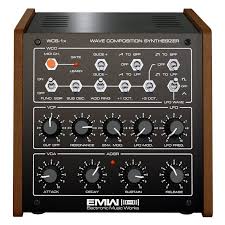 The WCS-1x  proves nice things come in "small packages". This compact desktop module gives you fat, "musical warmth" with straightforward programming. While the controls for it's WCO are a little different ( -and may require some getting used to ), the VCF, LFO and envelopes will be "second nature" for anyone who's spent time with a synthesizer. While the MIDI implementation is basic, the unit's "MIDI learn" feature makes hooking up a controller almost "plug-and-play" simple. Overall, the WCS-1x is a terrific synth at an unbeatable price!
---
I'm the proud owner of two WCS-1x's. I've integrated the pair into my bedroom studio using the following signal path:  I routed the MIDI output of my Arturia "KeyStep" ( -a compact 32-mini key keyboard controller with built-in arpeggiator and sequencer ) into the MIDI input of my MIDI Solutions ( 1-in/ 2-out ) "MIDI       Thru Box ". I then took it's two MIDI outputs and ran each of them into the MIDI inputs of each WCS-1x.       Then, I ran the ( mono ) audio outputs of each WCS-1x into two open line inputs on my Behringer Xenyx         QX1202USB mixer. The QX1202 is not only a "sweet" twelve channel board, it has a decent built-in one hundred effect Klark Teknik effects processor ( -which I made liberal use of while"demoing" the WCS-1x's ). 
The reason I mention this set-up is that after using it, I now realize how well these components worked       together. The MIDI Solutions box worked flawlessly in splitting the Arturia "KeyStep" MIDI signal. The "Key- Step" worked beautifully in creating sustained repeating sequences using it's "hold" function. This in turn, allowed me to tweak each of the WCS-1x's to my heart's content ( -without fussing with the keyboard! ).       Apart from audio level-setting and stereo pan placement, the Behringer QX1202USB's built-in effects allowed me to dial in varying amounts of reverb, delay ( -or any other effect to the WCS-1x's dry signal ). This set-up spurred my creativity and productivity. If you're looking for a system to "amp up" your creative juices -this one is it!  Better yet, these components are very affordable. And they work well with the WCS-1x.
Within fifteen minutes of setting-up my pair of WCS-1x's ( -in  the system above ), I nailed a pretty respect-   able "cover" of Giorgio Moroder's "I Feel Love" ( -using a sound I'd programmed on the pair ) and the "Key-Step's" terrific sequencer. By dialing-in a bit more delay to the sequence ( -via the Behringer's built-in effects ), I found that I could also imitate that songs's "doubling" phrase. Believe it or not, it was Moroder's engineer who told him HOW to do that. At least that's the story I've heard. Anyway, impressive for just fifteen minutes of fooling around on the WCS-1x's!
---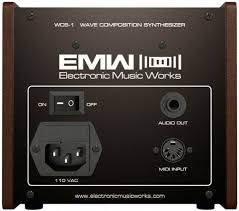 On the WCS-1x's back panel you'll find a beefy AC line receptacle and "rocker-style" on/off switch. To the right of there, you'll find a standard 5-pin DIN MIDI input port and a ( mono ) 1/4" audio output jack. Around front, you'll find the face panel arranged with the unique WCO ( wave composition oscillator + LFO wave toggle switch ) at the top, the VCF cut-off, resonance, envelope modulation, LFO modulation and LFO frequency knobs occupying the center panel position. Below there, you'll find the VCA and ADSR knobs.
---
The WCS-1x uses a DSP-based "Wave Composition Oscillator". The WCO's toggle switches allow you to access several waveshapes ( -including a fundamental square, a sub-octave, an "acid ring" waveform -which adds an aggressive edge to your sound, a sawtooth as well as a square wave -routed through either a bandpass or low pass filter -depending upon their respective toggle's position ). The WCO's toggle switches also allow you to select various octave settings ( +1 Octave, +3 Octaves or the fundamental's ). The LFO wave toggle allows you to select either a triangle or square wave for modulation purposes. At the top left corner of the WCO section is a MIDI channel button ( -with a "Gate" and "Learn" LED ). Next to it, you'll find a glide + and - ( portamento ) toggle switch.  An unconventional arrangement but it works once you get used to it. 
The remainder of the WCS-1x's controls are more straight forward knobs. You get one each for filter cut-off, filter resonance, filter envelope modulation, filter LFO modulation ( amount ) with the last knob to the right controlling the LFO's frequency. Below the filter section you'll find four knobs for controlling VCA attack, decay, sustain and release envelope segments. The knobs have a smooth, rock solid feel as you turn them. Nice! 
---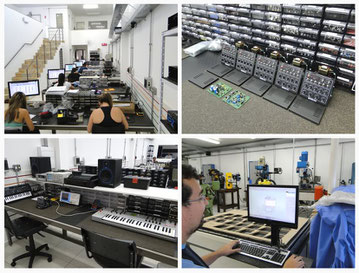 A few shots of EMW's production line. The right corner picture showing some partially assembled WCS-1x's. We hope to see many more innovative synths and modules coming from this cutting-edge Brazilian manufacturer. Currently, the only EMW dealer in the U.S. is Perfect Circuit Audio     ( -in Los Angeles, CA. ). If you like their affordable synths and modules support them by purchasing their products! So far, I've been very impressed by my WCS-1x's beefy sonics, build and value.
---
Okay, by now you've probably already guessed what our "verdict" would be on the WCS-1x. And you're right. We love it!  Here are a few reasons why: First and foremost it's SOUND. This thing has a pleasingly "Moog-like" sound. The adjectives "warm" and "musical" come to mind. The filters ( 18 dB/octave low-pass and bandpass ) have a rich, creamy character to them. Decidedly "old-school". Yet the "acid ring" waveform can add an aggre-ssive edge ( -reminiscent of 80's 303-based music ). 
And the WCS-1x's ADSR envelopes ( -especially the "attack" ) is quick and "snappy". I knew from listening to EMW's online demos that I would like the WCS-1x.  Now that I actually own two of them, I can say my initial assessment was right on-target. Bottom line:  these little monsters "rock"!  I'm glad I have a pair of them and not just one. I'm learning just how much fun you can have with them "in stereo".
---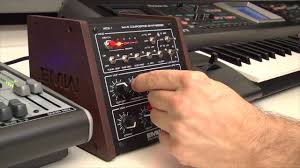 The joys of having TWO WCS-1x's include: programming the same sound on both ( -and "stacking" their  WCO's, filters, and envelopes for thicker, fatter tones ). Tweaking til you find that killer "monster sound". Then adjusting your mixer levels, pan-position and effects to create truly "gi-normous" stereo sounds. Having a complete set of BP and LP filters, ADSR envelopes and LFO's on EACH unit allows you to create complex, combined "hybrid" filter sounds and complex offset envelopes. Combining both unit's     WCO's allows rich, interesting "stacked" and foundation rattling "sub-octaved" sounds. By dialing-in a little mixer reverb, chorus or delay, you'll find the stereo image becames so FAT and WIDE it's almost unbelievable!  
---
There are twelve air vents atop the WCS-1x's. I looked down into each unit. I saw what appeared to be good quality resistors ( -metal film I think ), capacitors, transistors, diodes, a few I.C. chips, etc. Professional, efficient wiring and bright shiny solder joints. At least that's what I could see peering down onto the top circuit board. We're talking full-sized "through-hole" circuitry ( -not microscopic SMT stuff ). Yeah! 
And like I said previously, the front-panel toggle switches and pots all feel solid, smooth and true. The only slight concern I've had is that my MIDI cables weren't as snug-fitting as I'm accustomed to -when inserted     into the WCS-1x's MIDI ports. This however, could be the fault of my MIDI cables. Also, another minor gripe -the square female end of the AC cable ( -supplied by Perfect Circuit -as a replacement for the too short "non-U.S. types" included by EMW ) really don't feel as if they're "completely inserted" despite my pushing them in as far as they go. However, neither of these minor annoyances has had the least effect on my WCS-1x's operation. Perhaps it's just due to some "Brazilian" connector differences or something. 
---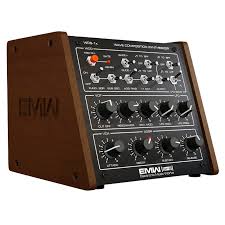 It took about a month and a half to receive delivery of my WCS-1x's from Perfect Circuit Audio. But I'm glad that I "toughed it out" and   hung on. The WCS-1x's were well worth the wait!  Remember, these are hand made in small lots by a small factory in Brazil. No huge transnational factory floors here. The units came bubble-wrapped      in a plain brown shipping carton loaded with styrofoam packing "peanuts". No fancy, multi-color boxes like with mass-produced   synths. The WCS-1x's are truly original. I like that! 
---
We plan to spotlight the WCS-1x's in a segment of our upcoming documentary film ( "Tiny Synths, Mighty Sounds" ), due out in late 2018'. You can learn more about the film by clicking on the  link ( below ):  http://locallegendfilms.jimdo.com/spotlight-2/  As well, we hope to post an interview with Paulo Sergio     dos Santos of EMW in an upcoming issue of Creative Tech Nerds. We're waiting to receive his answers to       our questions ( -so we can post them on this website ). So, stay tuned to this website for his interview! 
---
Want to check out the Electronic Music Works website for yourself? Click on the link ( below):  http://www.electronicmusicworks.com  
If you'd like to get pricing on the EMW line ( -from Perfect Circuit Audio, the U.S.'s only EMW dealer ), click this link: http://www.perfectcircuitaudio.com 

On the EMW website, you'll find complete descriptions, specs and demonstration videos covering EMW's synths, eurorack modules and MIDI devices. Check out their demo videos. They're especially helpful and will give you an idea of just how good their products sound! 
The Perfect Circuit Audio site will give you descriptions ( -and pricing ) on EMW's line of synths, modules and MIDI devices. Perfect Circuit also carries a LOT of other interesting EM brands as well.