---
---
The following interview with Frederic Brun of Arturia is a "preview" of my upcoming documentary film and   book "Tiny Synths, Mighty Sounds" . The interview will be featured in the book and referenced in the docu-mentary. I was so impressed by Frederic's answers that I've decided to print his interview on my Creative Tech Nerds website as well. I want to take this opportunity to thank Frederic for taking time from his busy schedule to do this rather lengthy interview. I'm sure electronic musicians worldwide will find his insightful answers to
be as fascinating as I do. Enjoy! 

Frederic Brun ( center ) with the Arturia team. Developing technology that gives musicians access to the tools they need to create. That's what Arturia is all about. With Arturia's introduction of affordable  products like     the ( new ) "MiniLab MkII", "MicroBrute" and "KeyStep", Arturia's technology is now more accessible than   ever before.  Arturia is breaking down the barriers to music-making ( -so that everyone can participate ).       And that "democratization" of music is a goal we at Creative Tech Nerds can heartily support! 
---
CTN: Can you tell us a little about yourself and how you started Arturia? 
Frederic Brun: In the beginning we were two friends, Gilles Pommereuil and I, both students at INPG, Grenoble Institute of Technology -France. We met at the University's orchestra. Gilles was conducting and         I was playing the violin. 
After graduation we met again in Paris. At that time I was studying Business Law at La Sorbonne -as my intention already was to create a company. Gilles had been developing some audio software while attending courses at Ircam. After long talks, one day we decided that we should start a company to help anyone make music. 
Our idea was that technology would allow everyone to access the instruments and tools of professional musicians ( -this partly happened thanks to software ). 
We also believed that, because of technology, everyone could make music without learning music. This did not totally arrive, you still have to do a bit of effort to create good music. But it is true that you do not need to be trained as a classical musician to do it.
---
CTN: Can you tell us about Arturia's design and engineering team? 
Frederic Brun: We have around 25 engineers, four testers and two in-house sound designers. Most of them are musicians. 
CTN: In 2002 -2003' Arturia partnered with Bob Moog to develop your groundbreaking "Moog Modular V"  software. Can you tell us about the "True Analog Emulation" ( TAE ) modelling process you developed during the "Moog Modular V's" design  phase ( -and explain why "TAE" provides such authentic recreations of vintage analog synth sounds? ). 
Frederic Brun: TAE is a set of algorithms that allow the recreation of analog warmth in digital format. It is evolving year after year and we could talk about revisions of TAE and not just about TAE. 
At first, it was really about creating a certain number of things:  the typical soft-clipping that you find with analog circuitry. This is something that Bob Moog pushed us to do at the time of the Moog Modular V. The lack of digital artifacts in higher frequencies was another part. We also worked on modelling the typical capacitor's unload that gives analog oscillators a specific shape. Most recently the team has worked on new ways to model filters and TAE stays at the forefront of analog modelling. 
TAE modelling is the result of a multi-step process, which essentially consists of:  1. ) formulating a solid mathematical large-signal model of a circuit, including all relevant non-idealities ( i.e: saturation, noise, hysteresis, etc. ). We do this starting from circuit schematics, electrical component characteristics, simulations, and real-world measurements;  2. ) Transforming this mathematical model into a highly efficient algorithm that can be executed in real-time;  3. ) Verifying that the result is coherent with the original device, both in terms of output sound and behavior. TAE contemplates multiple techniques for each of these steps, therefore allowing us to choose the approach that gives us the best sound quality at the lowest CPU/ memory usage. 
---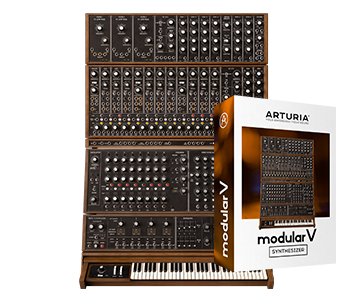 Arturia's partnership with Moog during the development of their "Moog Modular V" software, led to the creation of their highly accurate TAE algorithms ( -which have been refined and perfected over the years ), leading     to the company's formulation of OTHER synth emulations ( -like the "Minimoog V", "ARP 2600 V", "Oberheim SEM V" ) and software collections like their "V Collection 5" and "Analog Lab".
---
CTN: Since the "Moog Modular V's" debut, Arturia has gone on to develop other respected synth emulations which are now compiled in your "V Collection 5". Has this same "TAE" modelling technology been utilized to emulate your OTHER soft synths and keyboard programs? 
Frederic Brun:  TAE has always been a state of the art technology and up to date with the research on the topic. The first generation of TAE has been developed and used first in the "Modular V" and was based on generating anti-aliasing waveforms and using a lot of oversampling to get a very good sound quality. During the years we have improved and evolved this technology for all the instruments. The second generation of TAE has been developed for the "Jup-8 V" and used in the "SEM V" and "Matrix-12 V" for instance. It is using better waveform generation and better filtering techniques. Now, the latest generation of TAE is based on very accurate circuit modelling techniques and is currently under active development and is already used in the   new "Mini V" filter and of course included in the "Mini Filter V".
---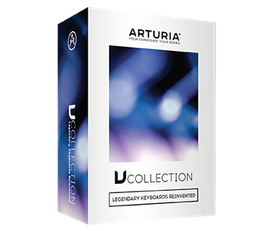 Arturia's "V Collection 5" includes:  Analog lab, Synclavier V,   B-3 V, Mini V, Piano V, Stage-73 V, Matrix-12 V, Farfisa V,   Solina V, SEM V, Wurli V, Jup-8 V, ARP 2600 V, CS-80 V, Pro- phet V,  VOX Continental V, Modular V and more than 5,000 preset sounds. A museum's worth of vintage analog and   digital synths ( -as well as organs, pianos and stage key-   boards ) all in one box!
---
CTN: One of the most interesting products Arturia has developed over the years is the "MiniLab" hybrid keyboard controller/ soft synth ( -which was recently updated with the introduction of the "MiniLab MkII" ). Can you tell us what the original design objectives for the "MiniLab" were, and explain how those objectives have now been "enhanced" with the new "MiniLab MkII" model? 
Frederic Brun: We tried to make the best out of Hardware and Software.
Software is great as it is inexpensive, easy to integrate in a DAW, easy to upgrade,...but Hardware is great because you have a physical response, more emotion toward the instrument.
How to offer the best of these two Worlds is the question that lead us to the "MiniLab" concept.   
The main purpose was huge control, small size, great integration with software and amazing value for money. "MiniLab" is a complete portable controller keyboard to play and control your virtual instruments. It offers         a prolific set of controls so that you can make music in the best conditions whether you are "on the go" or     simply space-restrained.
Thanks to the constructive feedback from Arturia's family of product owners, we have refined the original "MiniLab" into something new and exciting: the "MiniLab MkII".
---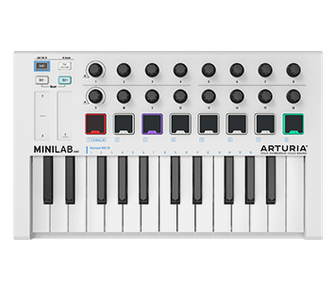 The newly introduced "MiniLab MkII" features a   new and improved 25 mini-key keybed, ( 2 ) banks of eight velocity and pressure sensitive pads, (16 ) rotary encoder knobs, two capacitive touch sensor pitch/ mod strips, and comes with "Anaolg Lab Lite" ( -with 500 presets ), "Ableton Live Lite" and "Grand Piano Model D" software. As the proud new owner of a "MiniLab MKII", I can attest to the fact that it's mini-key bed has indeed been improved and is very playable. See our forthcoming "Tiny Synths, Mighty Sounds" film segment on the "MiniLab MkII". 
---
CTN: Arturia has also introduced drum machines ( -like the "Spark", "SparkLE" and more recently the          "Drum Brute" ). Can you tell us how the "SparkLE" and new "Drum Brute" differ ( -in terms of features, workflow     and intended usage, i.e: computer DAW vs. live performance, etc. )? 
Frederic Brun: "Spark" is a blend of Software and Hardware. It gives a physical response to our "Spark"     virtual instrument. 
While "Spark" is based on the concept of the traditional drum machine, it offers all sorts of sound. Some acoustics, some electronics, some made of physical modelling. 
It also goes very far in terms of sound-design as you can create your own patch, like in a modular system. "Spark" is really a powerful and fun drum machine.
Drum Brute" is pure analogue. It is for the people who want to get back to this emotional, organic feel you     get with analogue. 
---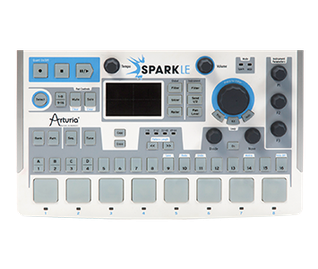 Arturia's "SparkLE" gives you a variety of sonic sources from the acoustic, electronic and modelling realms. Sound-designers will enjoy "SparkLE's" modular     programming depth.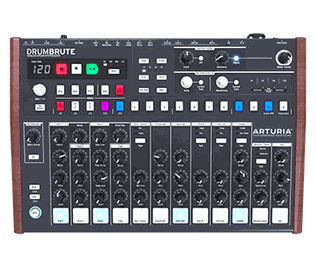 Arturia's "Drum Brute" features ( 17 ) analog drum sounds. It's wide range controls afford users a vast palette of sonic variation. Up to ( 64 ) patterns, each having up to 64 steps, are possible. And these are   loopable. "Swing" and "randomness" effects comb- ined with the Steiner Parker output filter add even     more sonic possibilities. 
---
CTN: Arturia has also produced some useful peripheral "gadgets" ( -like the "Key Step" and "Beat Step" ), which   will make electronic-musician's lives a lot easier. Can you tell us a little about each of these Arturia gadgets and what your goals were in developing them? 
Frederic Brun:  The "Step" line points back to some of our original goals, to allow people to make music. If   you have never played a note of music, the "Step" products allow you to quickly create musical passages. At   the same time, they are advanced sequencers that allow the experienced and professional musician the     ability to perform and compose in a fast, hands on way.
---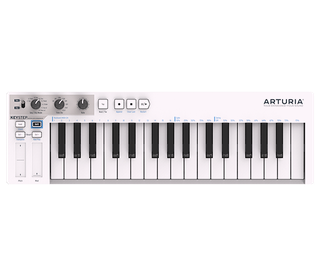 The "Key Step" leaves competing MIDI controllers       in the dust!  It's multimode arpeggiator, 64-step sequencer, rate, tap tempo performance controls, "hold" and chord play functions go beyond the functionality of most standard controllers . It's sync      i/o ports and CV/gate connectivity makes it the   "Swiss Army Knife" of low-cost MIDI keyboard controllers. See our forthcoming "Tiny Synths,         Mighty Sounds" film segment on the "Key Step"       for a demonstration of these unique features. 
---
CTN: Arturia is a very innovative company. I'm wondering WHERE the inspiration for all of these unique products come from! Can you tell us a little about Arturia's product development process ( -and what part your design and engineering team's "input" as well as your customer's "feedback" plays in Arturia's product development process )? 
Frederic Brun:  Innovation is at the center of our concerns. We concentrate all our know-how on the customer experience and the simplification of uses. Our pleasure is to extend the technological boundaries to offer extraordinary musical experience, with a great attention to design. 
---
Arturia's "Analog Lab" software gives users access       to ( 17 ) vintage modeled synths and keyboards.         The software comes with over  5,000 "V Collection" presets, including "combis" and effects. Custom mapping to any controller ( -via "MIDI Learn" )     makes integration easy and seamless. 
---
CTN:  Perhaps the most revolutionary thing Arturia has done is "transitioning" from it's ( -mostly software   based ) past to now also embracing the hardware world of actual physical synths ( -like the "MiniBrute",       "Micro-Brute" and now "MatrixBrute" ). I'm curious:  What prompted Arturia to branch out and include the world of hardware synths in it's product line? 
Has this inclusion of hardware products proven to be a challenge? ( -and if so, can you elaborate upon some of the new challenges  you face when producing these new hardware products? ).
Frederic Brun:  Back in 2005, when we decided to start working on "Origin", there were several questions at stake. First, some musicians did not want to use computers on stage. At that point, it was still risky and many were asking us to bring the "Modular V", among other instruments in software format. Another aspect was linked to privacy. We were suffering very much from piracy and hardware seemed to be a good way to avoid that.
Last, we were considering back then that computers were not yet ready to offer the polyphony and power that dedicated platforms brought. This all lead to the decision to create "Origin". 
It was a challenging process to design a Hardware synthesizer from Software. I myself took a strong part in the definition of the UI. But the reality is that we spent hours and hours discussing it. We went into very tough talks back then, that was difficult to create such an ambitious hardware product from scratch.
At NAMM ( 2010 ) I ran a discussion about analog synthesizers. Under the radar, there was a market for high-end analog synthesizers made by small "boutique" manufacturers. We made the bet that if we could create an inexpensive, powerful, inspiring analog synthesizer we could reach a much bigger group of musicians. 
We decided to make something unique, with the Steiner-Parker filter, but also with a new 25-key format and a very powerful unique oscillator. It was very bold as many people advised me to go for 37-key, take the famous ladder filter,.... It was a bet and we got lucky. 
---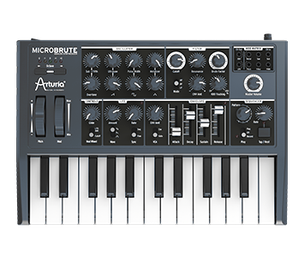 Arturia's "MicroBrute" crystallizes the "Brute" technology into a small-format powerhouse! Utilizing a 100% analog signal path, a Steiner Parker ( two pole ) multi-mode         ( LP/ BP/ HP ) filter, a two octave mini-keyboard, a single oscillator ( -with overtone, saw, square, triangle waves ) an audio in, advanced tone-shaping ( -including  PWM, ultrasaw, metalizer and "brute factor" ), an LFO, ADSR envelope generator, 64-step ( eight memory ) sequencer and appealing patch-panel, Arturia's "Micro- Brute" is     a nifty little synth! Check out our "Tiny Synths, Mighty Sounds" film segment on the "MicroBrute". We consider it to be a terrific "starter" or "educational" synth         ( -due to it's clear signal path, sound-shaping controls, mini patch panel and fun "tactile" design ). With it's affordable price tag, we can see university, highschool and even grade school music labs using the "Micro-Brute" to teach the basics of acoustic theory and electronic-music to their students. 
---
CTN:  Your "MiniBrute" and "MicroBrute" are small synths that really "pack a punch"! They feature some very unique "sound-shaping" features and a surprising level of connectivity for their price points. Can you tell us a little about their feature sets and unique "sound-shaping" capabilities? 
Who do you see as the prime user base for your "MiniBrute" and "MicroBrute" synths? Who you you see as the prime users of your new "MatrixBrute"?
Frederic Brun:  We wanted to make an oscillator that allowed for more tonal capabilities than your typical analog synth that only allowed selection of a single  waveform. By allowing the user to mix waveforms and then adding waveshapers like the Saw Animator and the Metalizer, we enabled people to create much bigger and more interesting sounds. The sound of the Steiner Parker filter and the Brute Factor are two other features that set our synths apart and give them their unique personality.
---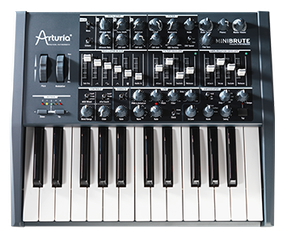 With it's full-sized keys, noise source and advanced mod-ulation capabilities, the "MiniBrute" gives synthesists a     sonic playground to wander around in. The "MiniBrute's" little brother ( -the "MicroBrute" ) incorporates a number     of it's big brother's features despite it's affordable price tag.
---
The "MiniBrute" is the upscale brother and is meant for more serious synthesists who want the added benefits of more modulation options, a noise source and full-sized keys. 
The "MatrixBrute" is our flagship synth. This one is really designed for the working professional or the high-end analog purist who ius looking for maximum flexibility, connectivity and huge sound potential. While it offers a vast number of options for the hardcore synthesist, you can still use it fairly easily in a live situation where you might just be recalling sounds.  
CTN:  Arturia's recently introduced "MatrixBrute" incorporates the "Brute" Series features in addition  to a number of new and interesting capabilities. Can you tell us about these new "MatrixBrute" features ( -and what they mean for the creative synthesist? ). 
Frederic Brun:  The main idea was to design a synth as powerful and inspiring as a modular system, but with presets. We wanted several VCO's, two VCF's and loads of modulation. Having all of these possibilities without an intuitive interface would have been a waste, so the second goal was to give the user the best interface possible to play it. It had to feel like a musical instrument, not like a programmable machine. It ended up as   the "MatrixBrute". A crazy amount of possibilities right at the tip of your fingers.
First, the waveforms are not exclusive, you get four of them at the same time. It allows several types of       blends that drastically widen the available sound-palette. Second, each waveform has it's own waveshaper.   It's another layer of possibilities. Add on top of this, the fact that waveform levels and waveshaper amounts       are modulatable, and you get much more sonic possibilities than any standard single waveform VCO. 
The Steiner Parker filter comes from the "MiniBrute", but for the "MatrixBrute" we added a 24dB per       octave mode. The Ladder Filter is based on the classic transistor ladder architecture. We designed and implemented it so that it allows HP and BP modes, which are not usually available on this kind of filter. 
We had a lot of modulation sources: 3 envelopes, 3 LFO's, keyboard, aftertouch, a sequencer, 4 macro knobs,.... We had plenty of destinations:  the technology involved allows us to use almost any parameter as a destination, so several tens. We had the possibility to use all of them at the same time with dedicated amounts. What would be more intuitive than real matrix? Once we decided to use the Matrix for modulation, we realized that it is very convenient to give instant access to presets, or to be used as a step-sequencer as well. It was nailed! 
---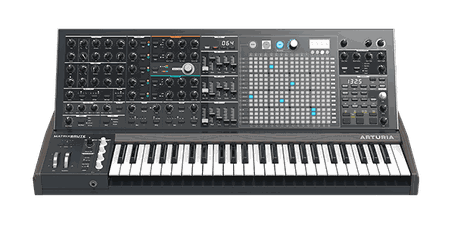 Arturia's ( new ) "MatrixBrute" flagship affords users modular level programming. Two analog exponential VCO's, one analog linear VCO/ LFO, a five-in audio mixer, noise generator, Steiner Parker and Ladder filters, two LFO's, three envelope gener-ators, an external audio input,     a 64-step sequencer, a 16 x 16 matrix modulation panel, analog effects and arpeggiator are only a partial         list of the "Matrix- Brute's" capabilities. Modular-level programming combined with an intuitive user interface make the "MatrixBrute" one beast of a "Brute"! 
---
CTN:  A while back I became disillusioned with the lack of "live performance" control and expression I was seeing in today's synth designs ( -especially with regard to front panel ergonomics and tactile controllers ).       As a result, I came up with a new synth ( front panel ) design of my own that I thought live performance synthesists and sound-designers might like. I call it the "Ultimate Analog Performance Synth" or "UAPS". 
I'd be curious to get your "feedback" and comments on it. You can view my "UAPS" design near the bottom of my website's "Small Synth Symposium" page at:  http://locallegendfilms.jimdo.com/small-synth-symposium/
Given the current state of electronics, would the "UAPS" ( -with it's "MHC" and various control surface feat-ures ) be technically and economically possible using today's "off-the-shelf" technology ( or ) would entirely new  technology need to be developed in order to manufacture such a synth? 
Frederic Brun:  Much of the needed IP is available. Capacitive touch sensors and trackballs and many other types of position sensors are available nowadays. Some are fairly inexpensive and some are very expensive.   The biggest challenge and question is always more about what will be controlled, how will the user set it up, how will you display it and will it require people to learn all new techniques to use it.
---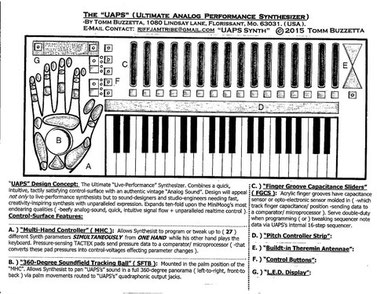 My "Ultimate Analog Performance Synth" design. Designed to give synthesists and sound-designers greater live performance expression. The "Multi Hand Controller" would allow the synthesist to control up to     ( 27 ) different parameters simultaneously from their left hand as their right plays the keyboard. The center trackball would allow users to position or "pan" the synth's sound   in a 360-degree panorama ( L-R, front-back ) while the "Finger Groove Capacitance Sliders" could be used to control additional parameters ( -or change sequencer pitches ) "live" from either ( or ) both hands.  A pitch/ filter controller strip and built-in theremin complete the "UAPS's" arsenal of live performance tools. "Pie-in-the-Sky" or next year's reality?  Today's synthesists and sound-designers will decide.
---
There have been many attempts over the years at making controllers with more "hands on" performance control but many of these were relegated to the experimental music world as they were difficult to implement or control in a musical fashion.
Creating a new paradigm for users can be difficult as they may not understand it easily and it might take a lot   of time to master. This is part of the reason that we still see input devices that have been around for hundreds of years, like a keyboard or plucking and fretting a string. 
The synthesis engine that could be controlled by this number of controls in real time would also need a lot       of thought. The basics of sound are made up of level, timbre, pitch and time,....you could also say special placement of the sound in 3-D space but most do not have a good way to monitor this even with modern surround systems. To control all of these in a musical way becomes a challenge. The use of automation ( i.e: LFO's, envelopes, sequencers and other triggered or repetitive sources ) helps in this but if you want to start being able to control all the parameters yourself, it would require some incredible dexterity and probably   more than just hands and fingers. 
I believe that there are opportunities nowaday that are opening up with low cost DIY platforms and grow-       ing communities of people who are able to make their own custom controllers however. With things like VR      ( virtual reality ) and positional sensors, who knows what will come in the future? 
---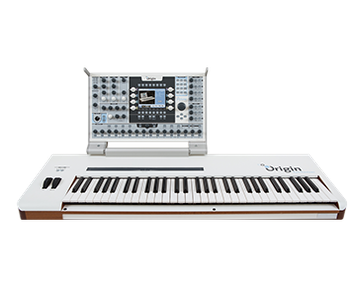 Arturia's "Origin Keyboard" is one of the company's most innovative products. It takes     their TAE expertise to a new level ( -with sound structure programming, multimode filters, up      to four output  VCA's, ring modulation, Bode frequency shifting, up to four polyphonic LFO's, two mono LFO's,  up to eight ADSR modules, effects and much more ).
---
CTN:  Are there any new products that you could tell our readers/ viewers about? What can we expect from Arturia in the future?  ( i.e: new product categories? new manufacturing processes? factory expansions?, etc. ). 
Frederic Brun:  Many of our customers were struggling with the available audio interface solution. We also saw some quality issues and we were afraid of the global experience our customers would face. After all, some Art-uria instruments have to be directed into a computer ( "MiniBrute" for example ). Some have to be directed from the computer ( -let's say CS-80V ). All need to get into speakers at some point. So, the audio interface is very central in the Arturia customer's set up. 
CTN:  Lastly, if you could "sum up" Arturia's synthesizer "design philosophy" into a concise sentence or two -what would it be? ( i.e: "Biggest bang for the buck" synthesizers?", "Vintage analog sound using today's latest technology"? ). Or some OTHER phrase you think best captures Arturia's design approach? ).
Frederic Brun:  Focusing on innovation, we strive to integrate the latest advances in computer music research and technology into our products. We dare to create original and different instruments, imagine new experiences and reinvent products. 
*CTN "POSTSCRIPT":  Judging from Arturia's cutting-edge products to date, I think Frederic's summation is right on target. I, and I'm sure electronic-musicians worldwide, look forward to what this innovative company comes up with next!
---

---
The Arturia Team:  Utilizing the latest in computer music research to create "original and different"             instruments and user experiences.