---
---
Specs: TMB4 maple neck, poplar body,  jatoba fretboard with acrylic block inlay, medium frets. DynaMix P    Neck pickup. DynaMix J2 bridge pickup, Ibanez custom "active" ( 9 V ) electronics with two-band EQ. Stand-  ard bridge. "Series-Tap" slide switch provides single-coil option in the bridge position. Street Price: $299.99. 
---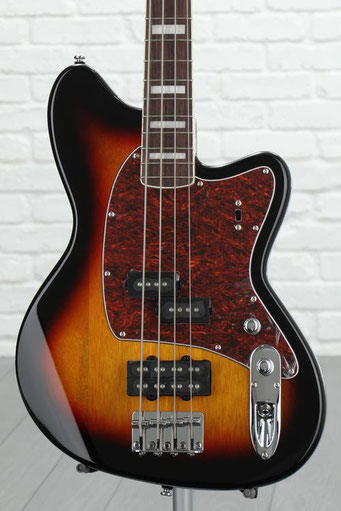 Ibanez's budget-friendly ( Indonesian-made ) "Talman" line provides amazing value for your dollar!  The TMB-310 model reviewed here, got a solid "thumbs up" from a veteran bass player friend of mine ( -Hi Mike! ) after he took it for a "test play". And I have to concur with his opinion. Ibanez has crafted a genuine winner with the TMB-310. But the TMB-310 isn't  the ONLY "Talman" model to receive kudos. If you're a regular on YouTube, you've no doubt run across favorable reviews by the likes of Johnny Lee Long and others extolling this line's    fine attributes. This review will tell you a little more about the TMB-310 and why it may be the "biggest bargain" you're likely to find in a "budget-priced" bass. We also take a look at Peavey's phenomenally cool "Vypyr VIP-1" Combo Amp ( -below ) along with a quick look at I.K. Multimedia's 'Modo Bass" plug-in. Is it really a viable alternative to a REAL bass?                                                                                    -IBANEZ'S  TMB-310 : GORGEOUS  LOOKS  AND  GREAT  SOUND!

---
What kind of electric bass can you get for a measly three-hundred bucks? A pretty amazing one actually!    When I formed "Riff Jam Tribe" ( -my Spacerock recording "sideline" ), I knew I wanted my music to sound like an actual "rock band" playing and not  antiseptic-sounding all-synth "electronica". Therefore, I knew the sound of an electric guitar, electric bass and drums would be crucial to "Riff Jam Tribe's" sound palette.
The drums were easy as both my Korg Electribe Sample and  Zoom R8 ( -digital eight-track ) have good built in drums. But getting the sound of realistic electric guitars and basses?  Now that was going to be a problem. Luckily, I soon discovered Appied Acoustic System's "Strum 2" guitar emulation plug-in. It passed sonic muster in my estimation -so the "guitar sound" problem was solved.  But what about the electric bass sounds? 
---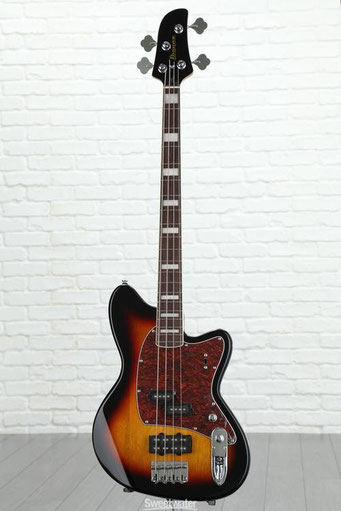 -LEFT. A picture of the ( exact ) Ibanez TMB-310  Electric Guitar I bought from Sweetwater Sound. 
While I eventually returned it to Sweetwater,          a bass player friend of mine ( -Mike Belcher )          gave the TMB-310 "high marks" while visiting      one Saturday afternoon ( -auditioning it through    the Peavey "Vypyr VIP-1" Combo Amp I'd also purchased from Sweetwater ).                                                                                                    Mike, who's played bass for over thirty years now, was quite impressed with the TMB-310 -especially, after hearing what I'd paid for it!  Mike found it's sound and build-quality ( -and Sweetwater's set    up ) to be pretty good for the price ( -though he  suggested a few personal set-up "tweaks" he would've implemented for optimal set-up ).   
SWEETWATER e-mails you a series of high-resolution photos ( -seen below ) of your exact instrument.          They also set-up your guitar or bass at no additional cost. I don't know if OTHER mail-order music dealers      do this but I think it's pretty cool that Sweetwater includes all this at no additional charge! 
---
Being a synthesist, I knew that programming a bass sound on one of my synths would be easy. But getting        a REALISTIC "bass-guitar" patch that would convince people they were hearing an actual bass? I wasn't sure      I could pull that off. That's when I started thinking about the possibility of buying a REAL bass guitar ( -and "sampling" it's plucked and slapped notes into my Electribe ). But could I find a bass that both sounded      great and fit my meager $300.00  budget?  That was going to be a real challenge!
---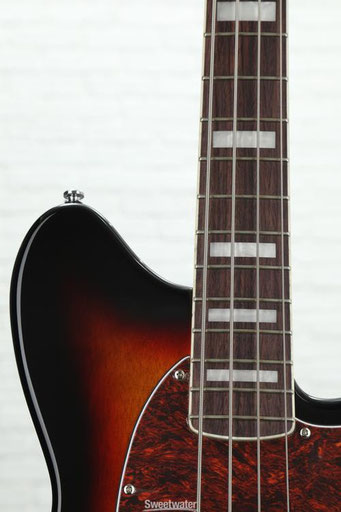 -RIGHT. Another Sweetwater photo of my Ibanez TMB-310. Showing it's bound jotoba fretboard    and acrylic block inlays. 
Here we see the jatoba fretboard, it's medium frets and acrylic block inlays. The TMB-310 uses 19mm string spacing.
Here you also get a glimpse of the tortoise shell    pick guard and ( "Sunburst-like" ) "Tri Fade Burst" finish. The bass also comes in a fetching "Turquoise Sparkle" finish. Truth be told, either finish is really stunning. 
---
So, I started perusing Youtube for any videos I could find on "reasonably-priced" basses. Since I'm not a bassist myself, I had no preconceived idea of which brands were good.  But it didn't really matter as all the prestigious well known brands ( i.e:  Fender, Rickenbacher, etc. ) were well out of my price-range anyway! None-the-less,  I persisted. Eventually, my persistence paid off. I came across some very enlightening ( -and entertaining! ) videos spotlighting Ibanez's "Talman" ( TMB-Series ). The YouTuber's auditioning these basses seemed genuinely jazzed about the line ( -and how much "value" they crammed into their budget price tags ).        Well, that's exactly the type of bass I was looking for! 
Here are are few of those videos:   
 * Johnny Lee Long and the TMB-100                                                                                                                            * Yev Zakharov  and the TMB-300                                                                                                                                     *Desy McDonald's "Extreme Bass Solo"  ( -with an unspecified TMB Model ) 
---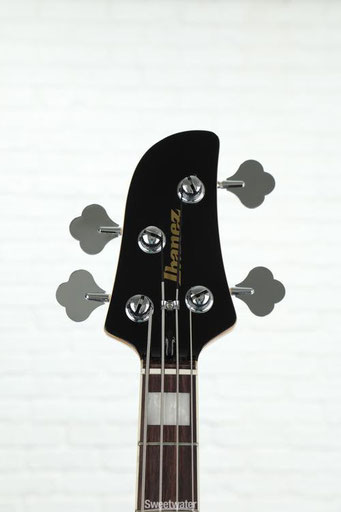 -LEFT :  "OLD-SCHOOL VIBE"                                                                                                              Here we see the TMB-310's "old-school"    headstock and oversized tuners. Several reviewers have mentioned that the TMB-300/ 310's open tuners do a great job of keeping your string's  tuning "locked in". And I think the flat, over-      sized tuning keys have a pretty cool "retro"        look  to boot!  
---
No doubt about it, Ibanez's "Talman" line has a unique sound signature. The TMB-310 ( -one of the "Talman" line's mid-level entries, along with the TMB-300 ) utilizes a series -tap slide switch to select between tap and series pickup configurations for the bridge pickup ( -which has two stacked single-coil pickups, similar to a humbucker ). The "series" position bypasses the hum and noise and gives you a "wider" bottom-end.
The "tap" position uses only one of the bridge's pickups for a "vintage" tone ( -that's a bit noisier ). 
---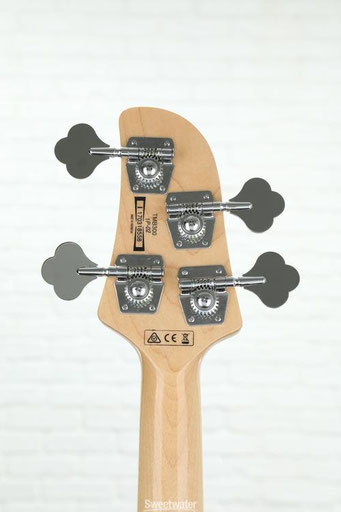 -RIGHT:  ( REAR  HEADSTOCK  VIEW  ) OF  THE          IBANEZ  TMB-310'S  OPEN  TUNERS.
In this photo, you can see the TMB-310's
open tuners. They keep the instrument's tuning locked-in. Here you can also see the instrument's maple neck.
Considering the price, the TMB-310 gives you          a surprising amount of value for your dollar. 
Beyond that, the TMB-310 delivers a wide
palette of warm and appealing tones. 
---
If you bother to read the comments of the TMB-300/ 310 owner/ reviewers ( -on mail-order music sites like Sweetwater's or beneath the above-mentioned Youtube videos ), you'll find plenty of kudos regarding their wide range of musical "tone".  And it's true. The TMB-300 and TMB-310 are capable of a staggering variety of "tones". From smooth, warm jazz to bodacious "in your face" slap-funk to straight ahead rock n' roll  ( -not to mention a myriad of OTHER musical styles ). I don't think I've ever heard a line of basses capable of a wider palette of "tone".  And that will really mean something when we compare the TMB-310 to  I.K. Multimedia's "Modo Bass 1.5" ( below ). 
---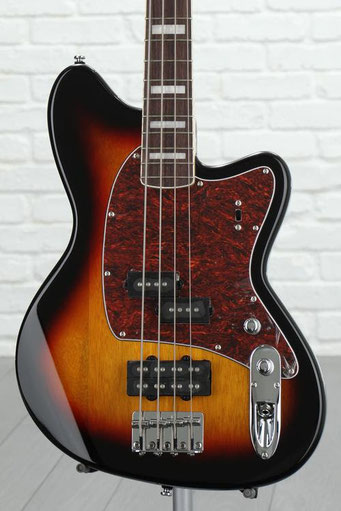 -LEFT:  PHOTO  OF  TMB-310's  BODY.
The TMB-310's fetching looks ( -in "Tri-Fade Burst" ) is the "icing on the cake". Beneath this gorgeous finish is a poplar body with great tone -one of features that make this bass a "solid value".
You can also see the TMB-310's two stacked-knobs  ( -one for master volume/ pickup selection ) and the other for tone ( treble top/ bass bottom ). 
Also, you can see the split-neck pickup and stacked single-coil bridge pickup as well as tortoise shell pick guard and bridge pickup's split-coil switch. 
---
The TMB-310's tone can punch through a mix like a hot knife through warm butter. This isn't a timid, mild mannered axe! In fact, some have called the "Talman" line's custom active ( 9-volt powered ) two band EQ      "radical". And that's fine by me. I love it's punchy "in-your-face" tone and attitude. With the TMB-310's bridge pickups in-series and both pickups active, bass and treble at center detent ( -or a bit past ), the TMB-310 is an absolute monster. Youtube bassist Johnny Lee Long ( -whose highly entertaining review of the TMB-100    you can watch at the above link ) calls the "Talman" line's  EQ "off the chain". I couldn't agree more.
And that's precisely WHY I love it!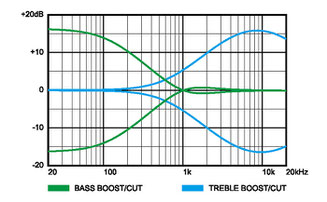 - ( RIGHT  ):  FREQUENCY-RESPONSE  CURVE  OF  IBANEZ'S  "RADICAL"  2-BAND  ACTIVE  EQ. 
Here are the frequency curves for Ibanez's tone controls. Ibanez's custom ( active 9-volt ) electronics  give the the TMB's  their punchy "in your face" sonic signature -contributing to it's unique charm. 
If you're searching for an affordable, versatile bass guitar that's both a "tone chameleon" ( -serving up a vast array of tones covering nearly ANY musical style you can think of ) and a bass you can use to conjure up your OWN personal "sound signature" with ( -one that will really cut-through a mix and dominate ), Ibanez's    TMB-310 should suit your needs. In fact, based upon the reviews I've read on them, Ibanez's TMB-100 
and TMB-300 should also be rock-solid buys! 
---

- ( LEFT  )  THE  "TURQUOISE  SPARKLE"  FINISH.
Here you can see the TMB-310 in it's "Turquoise Sparkle" finish.              If I were to buy another I think I'd get it in this finish. Really nice! 
---
If you read this review from the beginning, you're probably asking yourself WHY I didn't keep my TMB-310
( -if I'm so stoked about it )?  Fair question.  Being a bass novice, it never really occurred to me just how      large bass guitars are. Website and music gear catalog pictures ( -like those in Sweetwater's catalog )        fail to adequately convey the actual size and scale of the instruments you're looking at. 
Once the TMB-310 was delivered and it was finally strapped around my neck, I suddenly got a sick feeling      in  the pit of my stomach. It suddenly dawned upon me this instrument just wasn't going to "fit" the tight confines of my tiny bedroom project-studio ( -where it would be played mostly ). If I swung around fast        the bass' headstock might take out my equipment shelf or nearby laptop. Never mind "roaming" with it 
( -which every bass player is prone to doing when "getting into the groove" ). 
So, reluctantly, I knew both the TMB-310 and the sweet Peavey Vypyr "VIP-1" Combo Amp ( -I'd purchased along with the TMB-310 ) would be going back. Reality can really suck when it hits you square in the face   
at times like that!
That being said, if you're looking for one "sweet bass" ( -and don't have a stack of cash to spend on it ),
I'd recommend auditioning an Ibanez TMB-310. In fact, based upon the reviews I've read on them, the entire TMB line ( -including the TMB-100 and TMB-300 ) should be good bets as well. They all have tons of tone and value for the dollar.  Just make sure you have enough practice space to play your "Talman" in.  Bass guitars really DO  require plenty of room!
                                                               -END  OF  REVIEW
---
As mentioned above, Sweetwater "goes the extra mile" by setting up the guitars and basses they sell at no additional cost. They also e-mail you a series of high-resolution photos of the exact instrument you're buying.    That's pretty neat!  And kudos to my Sweetwater Sales Engineer Chris Lewis. Chris has assisted me with tons of purchases over the years. His competitive pricing, quick and responsive service ( -and overall helpfulness )    are much appreciated. If you're new to Sweetwater -ask for Chris Lewis, he'll take care of you! 
---
---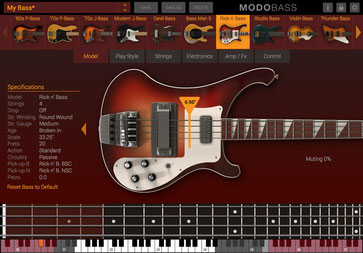 So, with the realization Ibanez's TMB-310 wasn't going to be a part of my future, I started looking for viable alternatives. Coincidentally, about that time a few CTN readers asked if I planned to do a review of IK Multimedia's "Modo Bass" software. Those requests have been kicking around in my head ever since.  So, when I did my interview with Erik Norlander ( -covering his involvement    in the design of IK's "UNO Synth" ), I thought I'd follow that piece up with a review of IK's "Modo Bass" for the CTN readers who'd requested it.     ( -ABOVE ):  THE  GORGEOUS  GUI  OF  IK's  "MODO  BASS" 
I plan to post a link to that review here once 
I have it completed. STAY TUNED!  
---
---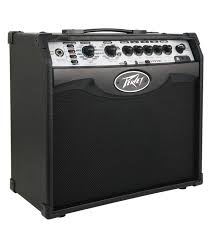 As mentioned above -I purchased my Ibanez TMB-310 along with
a Peavey Vypyr "VIP-1" combo amp. You can access my review of
the "VIP-1" by clicking on the link below:       
---