---
---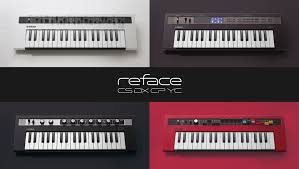 COOL  COMMEMORATIVE  COMPACT  KEYBOARDS!  Yamaha's "ReFace" line commemorates milestones from Yamaha's keyboard heritage ( -packaging them into cool, compact, modernly designed "go anywhere" models that can run on either AC wall current or on 6 x AA batteries ). Unfortunately, Yamaha's omitted a "ReFace" model that could prove to be their most popular!  Check out my         -CURRENT  YAMAHA  "REFACE"  KEYBOARDS          "Grab & Go Workstation" design below and cast your                                                                                     VOTE on whether you'd like to see Yamaha ADD this                                                                                     keyboard to their "ReFace" line up ( -See below ).
---
Yamaha's svelte, solidly-built "ReFace" line of four keyboards share the same sized chassis ( -each measuring  20  7/8" wide  x 6  7/8" deep  x  2  3/8" high ), the ability to run on either AC wall current ( -via their included PA-130 AC Adapter ) or via 6 x  AA-batteries ( -YES, alkaline, zinc carbon or rechargeable ( NIMH ) nickel-metal hydride types are all supported! ), include rear panel MIDI breakout terminals ( -with the a proprietary MIDI breakout cable provided ), built-in left and right two-watt ( -3 centimeter ) speakers and three octave HQ    mini-key keyboards.  All-in-all, a very attractive line of "grab-and-go" keyboards! 
---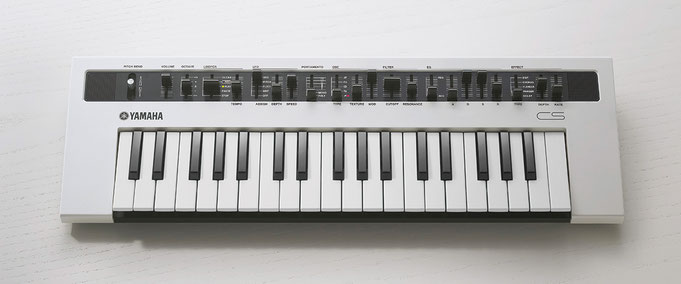 I own the "Reface CS" model.  It boasts some great features ( -like it's "Multi-Sawtooth" Oscillator, a lush filter and a smooth mini-keybed action ) along with some exasperating limitations.  Read on to see if the "CS" ( or ) one of it's stable mates is right for you.  And be sure to CAST your VOTE ( below ) on whether Yamaha should expand their "ReFace Line" to include the compact "Grab-and-Go Workstation" model described below. 
---
The "CS" model incorporates Yamaha's "AN" ( analog physical modeling ) tone-generation technology
( -originally used in it's CS-80 and later "AN" Series ). The "CS" features a front-panel consisting of ( 22 ) control-sliders to affect parameter and effects changes. An innovative "looper" slider allows for "quick
and dirty" performance recording -permitting you to play a keyboard part over some chords or notes 
you've previously recorded. The unit also offers a set of four built-in effects ( i.e: distortion, chorus/
flanger, phaser and delay ).
The "DX" model utilizes the FM tone-generation technology of Yamaha's venerable DX-7 ( -albeit modern-
ized with a new "feedback process" -simplified for easy operation ). Like the "CS" model, the "DX" also in-
corporates a "looper" for performance-oriented "overdubbing" and offers two slots ( -each holding one   
of ( 7 ) effects choices ).
---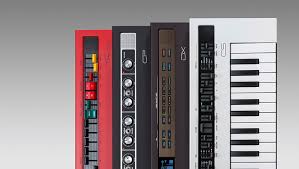 COMPACT  "GO  ANYWHERE"  MOBILE  KEYBOARDS!     
At last a line of "grab-and-go" keyboards that make gigging fun again!  With their svelte  20  7/8" x 6  7/8" footprint, "approx. 5 lb" weight and "go anywhere" AC/ DC mobility, Yamaha has answered the dreams of many gigging and project-studio keyboardists! ( -fed-up with big, bulky,  keyboards and the tyranny of AC "wall warts" ).                                                                                                              ( -ABOVE  ) YAMAHA'S  "REFACE"  LINE-UP 
It's a shame Yamaha didn't acknowledge their estimable "workstation heritage" ( i.e:  Motif XF/ XS, MOXF )      by including a "Workstation Model" to their "ReFace" line.  Maybe we can coax them into doing this. Cast    your VOTE on whether you'd like to see my "GRAB -AND -GO WORKSTATION" ( -below ) added to Yamaha's "ReFace" line up.  I think it would end up becoming their most popular "ReFace" model to date!  What do
you  think? Cast  your VOTE below!
---
The "CP" model captures ( 6 ) vintage keyboard sounds -including three types of electric pianos, clavinet, toy piano and Yamaha's own CP80 electric grand piano. They can all be combined with classic effects like tremolo/ wah, chorus/ phaser, digital or analog delay and reverb ). The "CP" features a front panel sporting ( 2 ) sliders, ( 9 ) knobs and ( 3 ) switches to effect sound and effects selections. 
The "YC" model offers ( 5 ) classic organ sounds -utilizing an Organ-Flutes tone-generator and organ-like additive synthesis ( -using vintage style footage sliders ). The unit's (5) "Wave" knob selections ( -including several types of 60's electric and transistor organs -including Yamaha's 1972 transistor version ) can be run through vibrato/ chorus and percussive accent effects as well as trough variable speed rotary-speaker effects.
---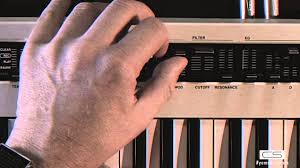 Sporting a unique five position "Oscillator Type" slider,      a creamy-sounding filter ( -that really shines when used
in the above's "Multi-Saw" position! ), a unique phrase "Looper" and selection of useful effects, Yamaha'a "CS" shows off the company's "AN" analog physical modelling technology to great advantage. The unit's portability and AC/DC mobility virtually define the term "grab-and go"!             THE  "TWEAK-FRIENDLY" REFACE  "CS"
---
From this family of diminuitively-sized "grab-and-go" keyboards, I've selected the "CS" ( Control Synth) model to "spotlight" in this review. I purchased this model for myself because I'm more of a synthesist than a pianist or organist and the glassy tones of Yamaha's FM-based DX line never really appealed to me. The fact that the "CS" ( -like it's stable mates ) is fetchingly compact and can run off either  an AC wall-wart ( -the included PA-130 ) or on six AA batteries immediately made it attractive to me.  And I think these same factors will make it attractive to many other keyboardists as well ( -especially those tired of lugging around big, bulky keyboards 
to their gigs ). 
At last a line of truly portable "go anywhere" keyboards that really sound good ( -and that will actually fit 
the tight confines of the average bedroom-studio! ). Who'd have thought it would take manufacturers this      long  to finally discover this concept!  I'm glad Yamaha has.  And the "CS" is a great example. 
---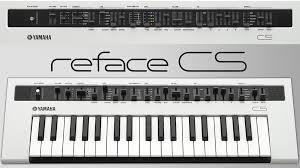 FETCHING  LOOKS:
The "CS's" snow-white livery ( -offset by it's recessed black control panel and numerous slider controls ) makes for a gorgeous presentation. The unit's surprising "heft" tells  you this is not just another cheesy, low-end keyboard but something substantial. The "CS" has the "fit and feel" of
a genuine musical instrument ( -and an attractive one at that! ).                                                                                ( -ABOVE )  REFACE  "CS"  &  CONTROL  PANEL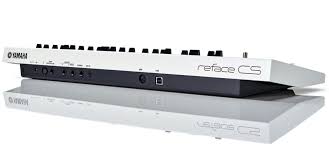 ROUND  BACK:
Round back you'll find the 12 Volt AC Adapter  connection (-for the included PA-130 "wall-wart" ),  an "On/Off" push button power switch, a 1/4" foot controller jack, 1/4" left and right output jacks, a
1/4" phones jack, a 3.5mm ( mini-stereo ) aux. in            ( -ABOVE  ) REFACE  "CS"  REAR  PANEL                   connection, a bi-directional proprietary MIDI break-                                                                                      out terminal ( -for the included breakout cable ),                                                                                          and a USB terminal ( -accepting either USB 1.1                                                                                            or USB 2.0 cables ). 
---
The front panel controls consist of an "up and down" pitch-bend lever ( -frankly, I'd have much preferred
a standard pitch-bend wheel like those on Yamaha's larger "MX" or "MOXF" keyboards ), a volume slider   
( -controlling the volume of the built-in speakers, left and right outputs and phones ), a five-position octave transposition slider, the looper function slider ( -with"clear", "record", "play", "pause" and "stop" detents ).    * NOTE:  The "Looper" can record phrases having a maximum of 2,000 notes or ten minutes at 120 BPM. Unfortunately, loop phrases are lost upon power down and note-dropping occurs when you exceed it's
rather scant eight-voice polyphony ( -new note priority ). 
---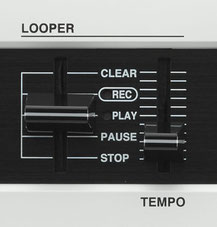 The "Looper" function is a mixed bag. While it's nice to have -it's only good for "quick and dirty" phrase captures ( -not precise masterpieces ). And anything you record is lost upon powering down. Combine that with it's scant polyphony ( -and 2,000-note limitation ) and this feature looses a lot of it's luster. I never touch it myself. Yamaha would've been better off completely omitting the "Looper" ( -and the unit's first four Oscillator types -keeping ONLY the "Multi-Saw" Oscillator  ). The money saved would've been better spent on giving the "CS" a built-in four track
digital audio recorder ( -with SD card storage ) and maybe an exter-
nal mic/ inst. input. I think most keyboardists would've found                            "CS's"  LOOPER  SECTION
these to be far more useful than the half-baked "Looper". 
---
Next you'll find a tempo slider ( -for adjusting the tempo of the "Looper" ) from 30 BPM - 300 BPM.  An
LFO slider allows you to assign the LFO to modulate the unit's ( 5 ) Oscillator Types ( -with each Oscillator Type having it's own unique adjustable parameters ). The LFO slider's five positions include "Osc", "Pitch", "Filter", "Amp" and "Off". The LFO's "Depth" and "Speed" sliders adjust the depth and frequency of the LFO. The adj-acent "Portamento" slider allows you to set the portamento ( -glide ) time and mono ( or ) polyphonic playing modes with the top "Mono" position offering a span of slider travel to adjust the portamento time. The poly- phonic mode lacks portamento. 
---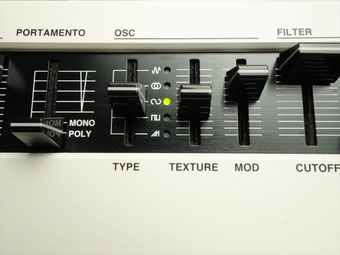 IT'S  ALL  ABOUT  THE  OSCILLATOR!
The "Osc" is the CS's key feature. Of the five osc-illator types on offer, the "Multi-Saw" stands head and shoulders above the rest. It's beefy harmonic-ally rich sound make the other four oscillator types sound lame in comparison.  In fact, I rarely switch    the slider out of the bottom "Multi-Saw" position!   
( -LEFT  )  "CS's"  OSC. TYPE  SLIDER
---
And now we come to the "CS's" key feature:  the "Oscillator Type" slider. This five position ( -detented ) slider allows you to select the oscillator type used. The top position ( "Frequency Modulation" ) allows you to create two-operator FM synth voices similar to Yamaha's DX7. The detent beneath there offers you "Ring Modulation" type voices for metallic and unpitched sounds. The third detent down offers you "Synced Oscillator" sounds. The fourth detent position produces "Pulse-Width Modulated" sounds. Finally, the bottom position -the star performer of the lot in my opinion -produces "Multi-Saw" sounds with layered sawtooth waves ( -and a sub-octave oscillator can also be kicked-in for staggeringly rich, fattened sounds ). 
The "Texture" and "Mod" sliders ( -adjacent to and right of the "Osc" Type slider ) allow you to affect various sound parameters of each oscillator type in-conjunction with the LFO's oscillator detent position. Next up are the filter cut-off and resonance sliders -for adjusting the "CS's" 24-dB/ octave low-pass filter ( -making it either brighter or duller sounding -with the resonance either emphasizing or de-emphaszing the cut-off frequency ).
I was very impressed by the rich "creamy" character of this filter -especially when used in conjunction with    the "Multi-Saw" Oscillator position. 
---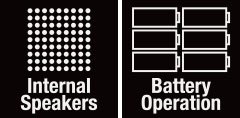 MOBILE  PORTABILITY  SPOKEN  HERE!
Some of the "CS's" key features include built-in left and right 3 centi- meter speakers ( -powered by an internal two-watt amp ). Six "AA" battery as well as AC "wall-wart" powering options.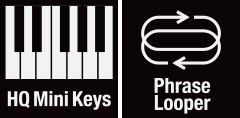 Additional features include a ( HQ ) high-quality three-octave mini-key keyboard and phrase looper. Packaged in it's trim and compact livery, the "CS" makes a dynamite "grab-and-go" keyboard for
the mobile gigging synthesist ( or ) keyboardist. 
---
Beyond there, you'll find the "Envelope Balance" slider -giving you a single slider to adjust the balance of the filter envelope generator to the amplitude envelope generator. Next to that you'll find the attack, decay, sustain and release sliders ( -one slider for each ) for the FEG and AEG's. Finally, you'll come to the "Effects" section. Here you'll find the "Effect Type" slider -offering you distortion, chorus/ flanger, phaser, delay or the option of no effect at all. Overall, the effects are decent but nothing to write home about. As always, they'll sound BEST when used in conjunction with the oscillator's "Multi-Saw" position. The final two sliders are dedicated to adjusting the "Depth" and "Rate" ( i.e: frequency ) of the effect you've chosen.   
---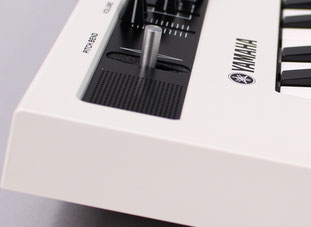 PITCH  BEND:
The "CS's" pitch bend slider. Personally, I'd have much preferred a pitch bend wheel. Compared to the standard pitch bend wheel it's a bit awkward to use. Situated next to the pitch bend is one of the "CS's" built-in speakers.
( -RIGHT  )  "CS's"  PITCH  BEND  SLIDER
---
So, what are we to make of the Yamaha "ReFace" line ( -and the "CS" in particular? ).  Are these attractive "ReFace" mini-keyboards really worth your hard-earned money?  Personally, I'd answer that question with a confident YES! They combine portability ( -and AA-battery "go anywhere" mobility ) with truly great sound. What more could the gigging musician ask for?  And by the way, these "ReFaces" are equally attractive options for bedroom project-studio enthusiasts ( -looking for keyboards that will actually fit the tight confines of their limited desktop environment ).  Few serious keyboards accomplish these feats!    
---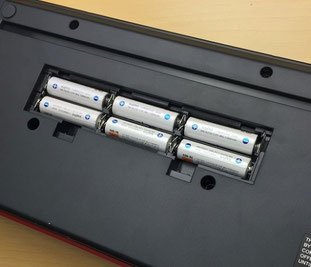 ( -LEFT  )  BOTTOM  BATTERY  COMPARTMENT     
OF  A  YAMAHA  "REFACE"  MODEL ( -SHOWING 
IT'S  "A A"  BATTERY-POWER  OPTION  ).  
Untethered from the tyranny of AC wall outlets , the
"on-the-go musician" can practice or gig in a woodland glade, on a bus or anywhere else they choose using one of Yamaha's "ReFace" models. Freedom at last...
Very Cool!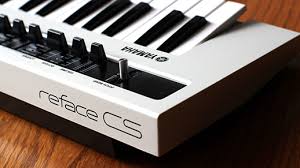 ( -RIGHT  )  A "REFACE  CS"  ON  DESKTOP.  
PROJECT-STUDIO FRIENDLY!  Yamaha's  20  7/8"  x  6  7/8" ( -under five pound ) line of "ReFace" Keyboards will fit even the smallest bedroom studio or desktop. Mini key-boards that sound great and will fit almost any space. 
Now that's a concept I can fully support! 
---
So, despite a few irking limitations ( -like it's limited "looper", awkward pitch-bend and first four "Oscillator" Types ), I would heartily recommend the "CS" model to those looking for a highly mobile "grab and go" synth. The "CS's" exemplary "Multi-Saw" oscillator and creamy filter more than make up for it's first four oscillators 
( -which pale in comparison to it's "Multi-Saw" ). I use my "CS" as the front-end keyboard for a "MID synth stack" ( -routing it's MIDI out to the input of a MIDI Solutions "Quadra-Thru" 1-in, 4-out thru box  -which feeds and controls four connected synths -allowing me to conjure truly massive multi-synth sounds from my "CS" ).
Check out my  RIFFJAM TRIBE Webpage  to hear this set-up in action.  I hope to have some sound-clips  
on this webpage by mid-May or June of 2018'. 
---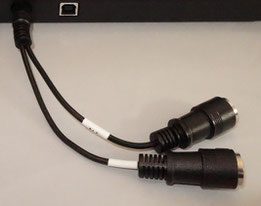 ( -LEFT  ) The proprietary MIDI breakout cable that's
included with the "CS" ( Control Synth ). 
---
The Yamaha "CS" is well worth your money. Especially if portability and mobility are among your top concerns. Oldschool analog fans will fall in love with it's HUGE-SOUNDING "Multi-Saw" Oscillator and rich, creamy filter. The "CS's" exemplary build-quality, fetching looks and silky smooth key-action make it a pleasure to use. For those reasons alone -the "CS" is worth your money!
---
---
---
---
When Yamaha introduced their "ReFace" line I thought it would only be a matter of time before a ReFace Workstation model appeared. In fact, I purposely held-off buying one in anticipation of such a model being introduced. Unfortunately, I was wrong -NO ReFace workstation ever appeared. This astounds me. One would think that Yamaha would be very proud  of their workstation heritage ( i.e: Motif, Motif XF/ XS, MOXF ) and
would want to celebrate it with a "ReFace" model. However, unexplicably, this hasn't yet happened. 
---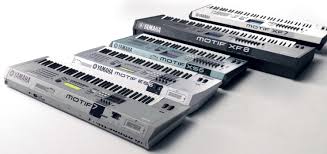 Yamaha's estimable workstation heritage includes
the original Motif and it's "follow-up" generations 
( -including the Motif XF/ XS, MOXF, etc. ). WHY Yamaha hasn't incorporated this workstation technology into a compact "Grab & Go" ReFace Workstation is perplexing (  -since it would almost      ( -ABOVE  )  YAMAHA'S  WORKSTATION  HERITAGE.        certainly  outsell their OTHER "ReFace" keyboards ).
---
So, once I realized no "ReFace Workstation" would be forthcoming, it got me to thinking HOW COOL such
a model would be! I think most keyboardists would agree:  Having the power of a full-featured Workstation 
Keyboard in a tiny  20  7/8"  x  6  7/8" ( -under five pound ) "footprint" is a very compelling concept!  So,
I thought I'd sketch out what one might look like ( *-See "Tomm's Grab & Go Workstation" concept drawing below ). 
---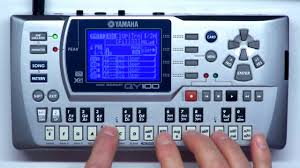 In the 1990's Yamaha introduced their "QY" line of Music Sequencers. In-essence, they were entire studios shoehorn-ed into VHS cassette-sized silver boxes ( - as seen RIGHT  ).
They included a ( 32 or 64-voice ) tone module, a 16-track sequencer, built-in effects and auto bass chord accompan-iement. The ( later ) QY-100 model ( -pictured right ) even included an external instrument input!                                                                                                                          ( -YAMAHA'S  QY-100  MUSIC  SEQUENCER ) 
---
If Yamaha was capable of "miniaturizing" an entire studio down to the size of their ( VHS-cassette sized ) "QY" Music  Sequencers back in the 1990's, no one can tell me they're NOT technically capable of producing
a miniaturized "ReFace-sized" Workstation Keyboard today!  Unless of course they've lost their technical "mojo" since the 90's.  If they have, Yamaha's competitors would be smart  to jump upon this "Grab & Go"   Workstation concept ( -because it will definitely appeal to gigging keyboardists/ project studio owners! ) .  
If you'd like to see Yamaha put this design into production, drop them an e-mail ( or ) post on their Facebook page ( -and ask OTHER keyboardists if they'd like to see my design become a real "ReFace" model ). Be sure
to include the following page link:  https://creativetechnerds.jimdo.com/gear-5/  so they can take a look at    my proposed "Grab & Go Workstation Keyboard" ( -below ). 
---
---
So, below is a sketch of what the ideal ( ReFace Series ) "Grab & Go Workstation Keyboard" would look like      ( -along with a description of it's functions and features ). If you like the design and would like to see Yamaha    or some OTHER manufacturer put this unit into production, leave your comments on our "Contact Page".        I'll post some of the more pithy and concise comments I receive ( -beneath the concept drawing below ).           Thanks!  -Tomm ( CTN ).
Leaving Yamaha's "workstation legacy" out of it's ReFace line is a serious omission in my book.
What do YOU think?  Here's my idea of what a Yamaha "ReFace" Workstation Keyboard should look like and feature. Would YOU buy one of these? I know I would!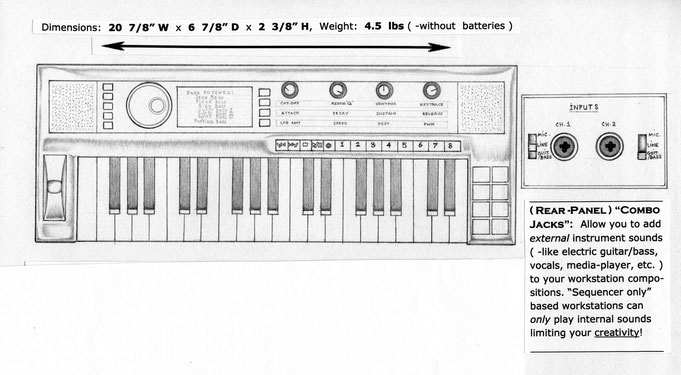 FINALLY, a compact, lightweight ( -under 5 lb. ) 3-way powerable ( i.e: AC, USB and AA-battery ) full-featured    ( 128-voice ) "ReFace Series" Workstation Keyboard small enough to slip in a gig bag and take ANYWHERE! Tired of lugging around those big, bulky ( 15 -35 lb. ) "boat anchor" workstations to your gigs? 
Here's your answer!
Sporting over ( 1,000 ) Vintage Analog synth and keyboard sounds ( -PLUS a selection of classic old-school bass and guitar sounds ) along with ( 12 ) punchy Studio drum kits, this "Grab & Go" Workstation puts everything you need into one compact easy-to-transport chassis. The unit's built-in ( 24-bit/ 96 Khz ) eight track digital audio recorder allows you to record both on-board instrument sounds as well as external instruments -like guitar, bass, media player and miked vocals ( -via it's pair of "XLR/ 1/4" Combo jacks on the rear panel ).
You can even play recorded sounds and sound snippets on the eight drum pads to the right of the keyboard
or re-record phrase performances back onto any "empty" digital audio tracks for virtually unlimited sound creation. Now THAT's a "ReFace" model I'd like to buy! How about YOU? 
---
---
While you're at it, take a look at the OTHER Synth Designs on our "Synth Project" webpage! (  LINK:   http://creativetechnerds.jimdo.com/synth-project/  ). Would you buy any of these synths                if they were put into production?  Cast your VOTE and let us know! If enough people like the designs                I'd like to start a crowd-funding effort to get them into production.