---
---
Atomhenge Label. Digitally remastered reissue of Hawkwind ( -"Hawklords" line up as the band battled name use litigations ).  Captured live November 24, 1978 at Brunel University, Uxbridge.  With expanded liner notes and Barney Bubbles cover photo. Containing previously unreleased tracks not available on the original release.
---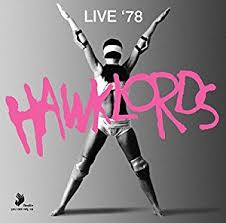 "Hawklords" band:  
Dave Brock -guitars and vocals,
Robert Calvert: vocals/ poetry,
Harvey Bainbridge: bass,   
Steve Swindells: keyboards,
Martin Griffin: drums. Barney Bubbles cover art. Includes ( 12 ) page B&W / colour ( pages 2-3 ) booklet with track listing/ credits and    fascinating back story on the album by Mark Powell.
---
I recently discovered this album. I don't know how long it's been out but it certainly ROCKS!  It's a digital         remaster on the Atomhenge label.  Finally, a live concert recording of the band that actually sounds fairly decent! It captures Bob Calvert and the band ( i.e:  their "Hawklords" formulation ) in absolute top form.         If you missed this one it's definitely worth having. Especially, if you're a Bob Calvert fan.  
---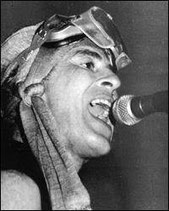 The ever mercurial Robert Calvert. Perhaps Hawkwind's best poet/ singer and lyricist. "Live 78' Hawklords" captures Bob at his manic, show-stopping best.       All of the clever word play, biting humor and sardonic wit is captured "live"     and brilliantly in-tact.  And beyond his studio-recorded performances on the "Quark" and "25 Years" albums, this live concert outing shows Bob at his quick witted "ad libbing" best ( -frequently copping fresh "impromptu lyrics" in parts of those songs ). An altogether "over the top" performance by Bob and the band!
---
That's pretty much how I'd describe this album. For whatever reason, the band was "firing on all cylinders" the night this concert was recorded. Harvey's bass playing and Martin's drumming are so tight and in-the-pocket it's ridiculous. The breakneck proto-punk pace they set up on some of these songs nearly careens the band into the stands. Yet, like a high-performance Indy race car taking a turn on two wheels ( -then precariously righting itself ) to win the race in record time -this album has the feel of barely controlled hysteria. It's balls-to-the-wall, all out adrenelin and "hang by your fingernails" exhilaration! Probably the most energized Hawkwind 
( -er, um "Hawklords" ) performance I've ever heard. An absolute "must have" for fans! 
---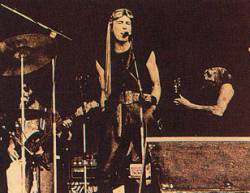 Robert Calvert at his theatrical "stage performance" best. This is how I remember seeing him at the Rico's I ( Collinsville, Il. ) per- formance I saw when Hawkwind toured the U.S. in 1978'. This   was the first ( -and only ) live Hawkwind performance I've been lucky enough to see. The play list was pretty close to that of the "Hawklords Live 78' " set on this album. However, there were additional songs Like "Robot", "Uncle Sam's On Mars" and       "Forge of Vulcan".  And Adrian Shaw was playing bass.  
---
The "25 Years" album was based upon a bizarre "Metropolis" like tale of an industrialized future where dispirited "micro men" workers toil aimlessly. Like most fans, the "concept" eluded me and the stark black   and white Barney Bubbles album cover was far from likable or accessible. In fact, I hated it! None-the-less,       I DID like the music.    
I understand Charisma had a professional film crew on hand to document this November 24th, 1978'      Brunel University gig ( -but for some inexplicable reason have never released a DVD of it ). A real shame!          If enough interested fans want to see this DVD on offer in the future perhaps an effort could be started            to accomplish this. If Charisma ( -or the current owner's of this film ) see that it's release would be com-mercially viable ( i.e: profitable ) perhaps they'd consider it.
So far, only a few snippets of this live Hawklords concert have made it to British television. Let's hope a full  DVD of this concert ( -including some interviews with the musicians who played it -relating their memories,        along with a proper "intro" by someone who knows the band's music "inside out" like Hawkwind super fan Brian Tawn -could be added to make this a really special concert DVD ). These added features would add immense value and make the DVD a "must have" for fans. Let's hope the current owners of this film read this!  
---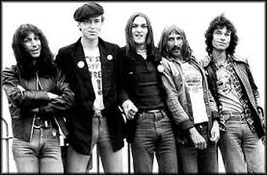 Dave ( -second from the right ) and Bob ( -second from the left ) were the only two Hawkwind members from this photo to part- icipate in the Brunel University/ Uxbridge gig. Seen left of Bob is bassist Adrian Shaw. Longtime Hawkwind drummer Simon King  ( -between Bob and Dave ) and keyboard/ synth wizard Simon House is seen far right in this photo. 
---
Culled from several albums ( i.e: "Quark, Strangeness and Charm", "25 Years", "Doremi" and others ), the    set list for this concert was primarily in support of the ( then ) newly released "25 Years" album. A good mix    of tunes -both new and old. Here's a "track-by-track" rundown of my impressions of the album's songs: 
"Automaton" -this pre-recorded robot-voiced "Au-To-Ma-Ton, Au-To-Ma-Ton"/ effects loop ( -slowed at first and gradually speeding up ), drags on a bit too long for my taste. However, the loop is mercifully nudged aside by the gradually chiffing guitar and bass strains of:
"25 Years" -which quickly explodes into the wasp-angry distortion guitar licks of this punk barn-burner.       Harvey's bass and Martin's drumming ( -complimented by Steve's keyboard counterpoint ) is wound so tight it's amazing they could keep it all altogether. Bob's vocals are effortless and cool. He even drops in a few free  formed riffs into the mix for good measure. This track is simply not to be missed!  
"High Rise" -A sequenced opening and great bass/ drum intro start Bob's tale of high-rise living and "pent-up rage". Phased guitar chord washes. Bass and drums once again superb in this one. Bob's processed vocals       ( -or is that a megaphone? ) punctuate his lyrics. Ends in a reverby wash before exploding into: 
"Death Trap" -A turbo-charged tale of extreme motorheading. The accelerated pace of this song is like an adrenalin mainline. With punctuated starts, stops and more Calvert free form riffing and sound-effects, the track de-constructs into bass/ drum simplicity before jumping back on track to the band's shouted "death trap,  death trap!" choruses before crashing with Bob's final "death wish!" refrain.
"Age of the Mico Man" -Swindell's rich chorusing keyboard pads intro Bob's nicely emotive vocals on the    soul-killing mundaness of factory-worker life. Devolves into some nice cadenced guitar/ bass/ drum phrasing    eventually petering out into silence. Swindells delivers some tasty synth counterpoint lines throughout. Nice! 
"Spirit of the Age" -Dave's chiffing, chugging guitar intro ( -followed up by Harvey's bass and Martin's drums), provide a fair emulation of the "Quark" album's evocative chugging EMS Synthi-Aks sequence. Steve's gliding, pitch bent synth riffs add a very nice counterpoint to Dave and Martin's stuccatoed rhythm play. Bob's emotive inflections and careful annunciations add greatly in conveying the tale of a returning spaceman in an age of cryogenics and clones. More extended synth noodling and bass/ drum jamming evolves into a reprise of the intro's sequencer line -ending with Brock's guitar lead riffing. A great rendition of this track!  
"Urban Guerilla"  -Dave establishes the song's angry guitar lead joined by Harvey and Martin who put sonic meat on the beast. Bob's vocals are echoed by a distant ( -off mic. ) Brock. Tight riffing ensues as the band's "gotta stay cool" chorus elicits Calvert's "back and forth" dialogue ( -Bob adding some manic, free formed lyrics to each of his "answering" refrains ). Ends to oscillator sweeps and filter twitterings and a re-statement of the original riff and lyrics before a synth climax bridge into:
---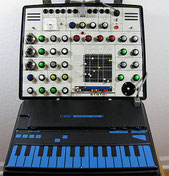 The EMS Synthi-Aks synthesizer. The synthesizer responsible for that memorable, "chugging" sequencer line on "Spirit of the Age". Unfortunately, it sounds like Dave's Synthi-Aks was left at home for this November 24, 1978 gig. Dave's chug- ging rhythm guitar and Harvey's bass "subs" for the synth line on this one. And they do a bang-up job of it too -but the Synthi-Ak's rich, textured ( -and slightly phased ) rhythmic underpinning is missed. Most fans won't miss it but as a synthesist myself, there's nothing quite like hearing that line done on the EMS Synthi-Aks.  *NOTE:  If you own a Korg "MicroKorg" synth, you can nail that "Spirit of the Age" chug with some careful programming. I've done it. Definitely, one of the coolest sounds Dave's ever conjured on his EMS Aks!
---
"Sonic Attack" -Plenty of reverbed synth twitterings as Calvert gives the band's long-established rules              for dealing with sonic-attack. One of the best renditions of this Hawkwind favorite you're likely to hear.        What distinguishes this version is the extended bass/ drum and synth jam that it spawns. Starting with        Harvey's menacing bass "rumblings" ( -which morph into a minor bass riff -eliciting Martin's pacing drum    work and complimenting rolls and flourishes ). The pace quickens. Swindells adds some tasty free formed synth flourishes. Brock chimes in with some guitar jamming. The jam goes "white hot". This little jam is        one of the disc's high points in my book. I absolutely LOVE it!  And I think other Hawk fans will too!                                                                          
"Psi Power" -This manages to be a more or less standard version ( -think "Quark" album ) but is good none-the-less. Ends with lush phased/ chorused guitars/ keys and Bob's processed "speakings" -leaving the song    on a spoken "question mark" ( -like on the "Quark" album version ). 
"Brainstrorm" -A great energized version of this venerable Hawkwind tune as Bob and Dave answer one another with more "back and forth" lyrical exchanges. The interplay of keys, bass and drums in the extended riff -really make this special. The rotorhythmic riff quickens into "she said" back-up vocals echoing Bob's lyrics. The jamming continues as Dave explores new guitar leads. Swindell's keyboard counterpoint jabs adding some nice punctuated phrasings to the affair. Then, the main riff is re-established as Bob's stuttered vocals close    the piece in great form.
---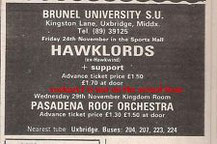 Newsprint advert for the November 24th, 1978 Brunel University, Uxbridge concert. Allegedly, the gig was filmed -yet amazingly only snippets of this concert have ever made it to British television.  So,  there you have it Hawkfans. Do you think Charisma ( -or whoever    currently owns this film ) should release a complete DVD of it as mentioned above?  Let us know what you think. 
---
Truly, this is a "gem from the vaults". I'm really glad I discovered it. And the thought of the entire concert captured on film ( -lying on a shelf somewhere ) really makes me curious. Is there enough interest by fans      in bringing this archived film to light once and for all?  To add the previously mentioned "intro" and "band interviews" to the gig footage to make it a truly special DVD? And what about the film itself?  What condition      is it in?  Certainly, 1978's recording technology wasn't a match for today's hi-def and 4 K expectations. None  the less, I've seen concert footage from that era ( i.e: Camel's "Moondances" for example ) that looks quite watchable. Maybe not up to today's hi-def standards but watchable. And with today's film restoration techniques -who knows what may be possible. 
But concentrating on the audio only disc we're reviewing here:  Is it worth buying?  ABSOLUTELY! Even if you own the "Quark, Strangeness and Charm", "25 Years", "Doremi, Fasol, Latido" and other albums and singles that this set's play list was culled from. The versions on this disc ( -with the possible exception of "Psi-Power" ) are going to sound tighter and be much more "energized". Suddenly, the album versions of these songs sound a bit tired and listless. Like I said, the band was truly "firing on all cylinders" on this outting. Pure sonic magic!
---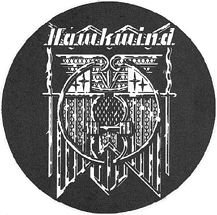 "Brainstorm" -a perrenial favorite of Hawkwind fans hailing from 1972's "Doremi" album ( -pictured right ), is included on this CD. However, with the increased energy and intensity of this "live" version I'm guessing lots  of fans will prefer this to the original ( album ) version. And that goes for the majority of this album's tracks. If you like to originals you're probably going to LOVE the versions found on this "Hawklords Live 78' " disc! 
---
This CD needs to be in the collection of every Hawkwind fan!  You'll find the tight, focused, near "off-the-rails" energy of this live recording to be infectious and well worth having.  Atomhenge and Cherry Red have done a bang up job of packaging this disc as well. The Barney Bubbles cover photo, included 12-page booklet ( -with colour concert photo of the band spanning pages 2-3 and song set list/ musician credits keyed over the photo ) make for a great presentation.  Maybe someday, if enough of fans express an interest -we may see this concert ( -both audio AND video! ) available on a deluxe DVD release ( -complete with proper intro and "back story"  on the gig along with new interview segments done with surviving Hawklords added ). Let's certainly hope so!                                                                                                                                                                                                                                                        
                                                                 -END  OF   REVIEW-
---
---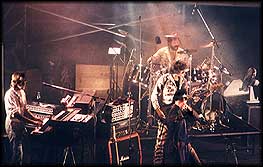 Some where out there exists a film can containing footage of Hawkwind's November 24th, Brunel University ( Uxbridge ) "Hawklords" concert. If you've heard the "Hawklords Live 78' " album ( -reviewed above ), you'll know just how special this concert was. When I read the Wikipedia notes on Charisma Records' filming of this gig I knew I had to start an effort to      finally get this "archived gem" put onto DVD!  
    LATE  70's  "HAWKLORDS"  PHOTO
---
I've just started trying to track down exactly who currently owns this film. Charisma Records has since gone    out of business. Their assets ( -and conceivably the film? ) have gone through a succession of record company mergers and takeovers ( i.e:  EMI, Virgin, to name but a few ).  So it looks as if this will take some "sleuthing"  to find out just WHO currently owns and has rights to the film ( -much less if it even still exists! ).  
None the less, this seems a worthy "quest" ( -as I doubt I'm the ONLY Hawkwind fan out here who'd like to    see this concert on DVD ).  Especially, if it would include some cool "Extra Features" like a proper "Intro" -done by a credible Hawkwind chronicler like Brian Tawn -giving viewers some historical background  and context  on the gig.  And maybe including interviews with some surviving "Hawklords" members, i.e:  Dave Brock, Steve Swindells, Harvey Bainbridge, Martin Griffins -adding their recollections of the "Hawklords Tour" and Nov. 24th's gig in particular.  Maybe even including some brief interviews  with fans who were at the gig.                  This would make for a really special DVD I think! 
The "Hawklords Live 78' " sound recording ( -above ) serves as a tantalizing ( audio only ) "glimpse" of what this gig must've been like.  A glimpse that makes me ( -and probably lots of other fans ) eager to finally            see this concert made available on DVD!  If that describes YOU then take a minute to:
---
---
If enough of you  post positive comments regarding the idea, the owners of this film may consider making the  DVD available.  So, tell your friends to post as well -the more positive comments we get, the more likely this DVD will be made.  If I can locate the film's owners, I'll direct them to YOUR comments on our Facebook        and "Contact" Pages -hopefully showing them the "profitability" of releasing such a DVD. 
Who knows -perhaps someone reading this may have first-hand knowledge of who currently owns this film.    If so, we'd like to hear from them. They can contact us through our "Contact Page" 
If you're a Hawkwind fan and you'd like to post a short ( one or two sentence ) comment of support for this "Hawklords:  Nov. 24th, 1978' Brunel University ( Uxbridge ) Concert" DVD idea, click on the Facebook icon      ( below ) or "Contact Page" link ( above ) to post your short comment. We'll post as many comments as        will fit below:             
-Thanks;  Tomm Buzzetta -Editor, "Creative Tech Nerds" webzine. 
---